Joseph D. Federico's Blog
Homes for Sale Are Rapidly Disappearing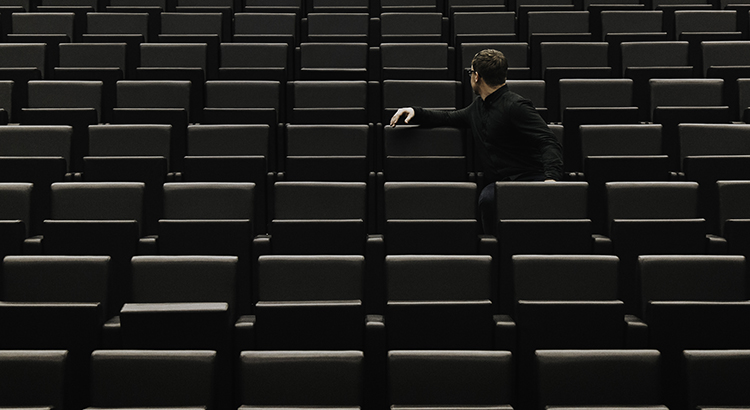 Through all the challenges of 2020, the real estate market has done very well, and purchasers are continuing to take advantage of historically low mortgage rates. Realtor Magazine just explained:
"While winter may be typically a slow season in real estate, economists predict it isn't likely to happen this year…Low inventories combined with high demand due to record-low mortgage rates is sending buyers to the market in a flurry."
However, one challenge for the housing industry heading into this winter is the dwindling number of homes available for sale. Lawrence Yun, Chief Economist for the National Association of Realtors (NAR), recently said:
"There is no shortage of hopeful, potential buyers, but inventory is historically low."
In addition, Danielle Hale, Chief Economist for realtor.com, notes:
"Fewer new sellers coming to market while a greater than usual number of buyers continue to search for a home causes inventory to continue to evaporate."
One major indicator the industry uses to measure housing supply is the months' supply of inventory. According to NAR:
"Months' supply refers to the number of months it would take for the current inventory of homes on the market to sell given the current sales pace." 
Historically, six months of supply is considered a normal real estate market. Going into the pandemic, inventory was already well below this mark. As the year progressed, the supply has was reduced even further. Here is a graph showing this measurement over the last year:
What does this mean if you're a buyer?
Be patient during your home search. It may take time to find a home you love. Once you do, be ready to move forward quickly. Get pre-approved for a mortgage, be prepared to make a competitive offer from the start, and understand how the shortage in inventory has led to more bidding wars. Calculate just how far you're willing to go to secure a home if you truly love it.
What does this mean if you're a seller?
Realize that, in some ways, you're in the driver's seat. When there's a shortage of an item at the same time there's a strong demand for it, the seller is in a good position to negotiate. Whether it's the price, moving date, possible repairs, or anything else, you'll be able to ask for more from a potential purchaser at a time like this – especially if you have multiple interested buyers. Do not be unreasonable, but understand you probably have the upper hand.
Bottom Line
The housing market will remain strong throughout the winter and heading into the spring. Know what that means for you, whether you're buying, selling, or doing both.
Why Working from Home May Spark Your Next Move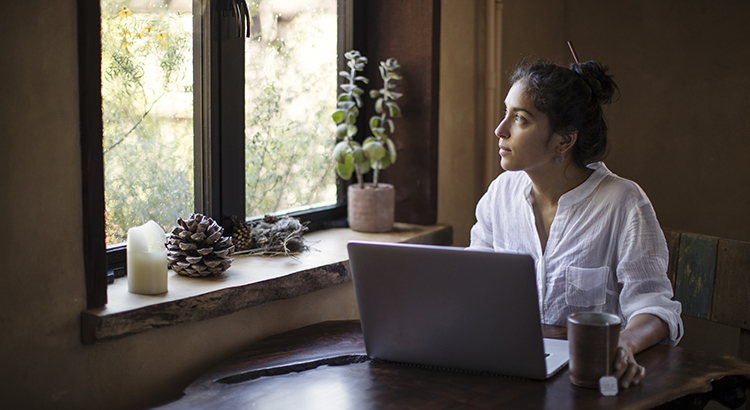 If you've been working from home this year, chances are you've been at it a little longer than you initially expected. Businesses all over the country have figured out how to operate remotely to keep their employees healthy, safe, and productive. For many, it may be carrying into next year, and possibly beyond.
While the pandemic continues, Americans are re-evaluating their homes, floorplans, locations, needs, and more. Some need more space, while others need less. Whether you're renting or own your home, if remote work is part of your future, you may be thinking about moving, especially while today's mortgage rates are so low.
A recent study from Upwork notes:
"Anywhere from 14 to 23 million Americans are planning to move as a result of remote work."
To put this into perspective, last year, 6 million homes were sold in the U.S. This means roughly 2 – 4X as many people are considering moving now, and there's a direct connection to their ability to work from home.
The same study also notes while 45.3% of people are planning to stay within a 2-hour drive from their current location, 41.5% of the people who are citing working from home as their primary reason for making a move are willing to look for a home more than 4 hours away from where they live now (See graph below):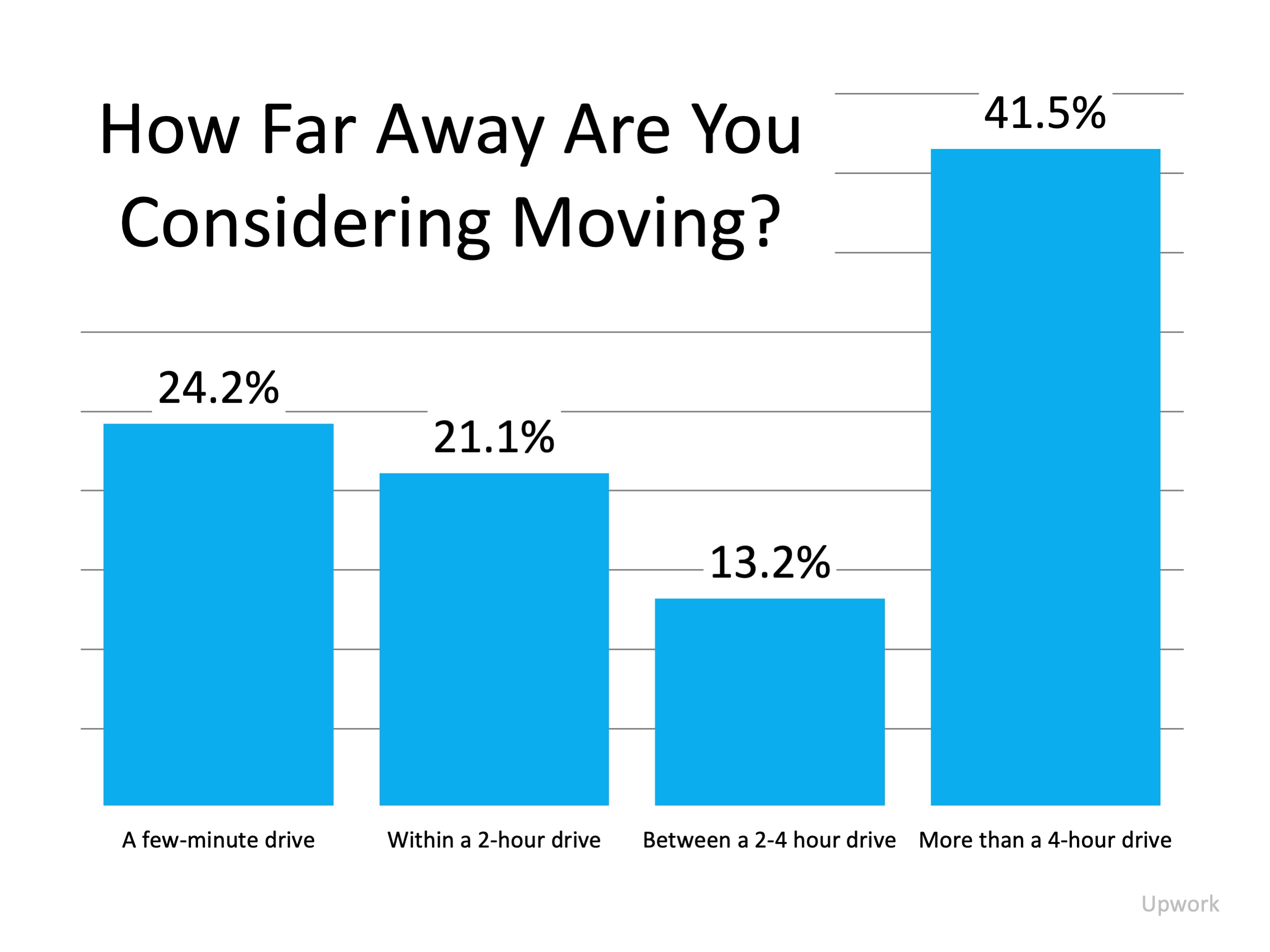 In some cases, moving a little further away from your current location might mean you can get more home for your money. If you have the opportunity to work remotely, you may have more options available by expanding your search. Upwork also indicates, of those surveyed:
"People are seeking less expensive housing: Altogether, more than half (52.5%) are planning to move to a house that is significantly more affordable than their current home."
Whether you can eliminate your daily commute to the office, or you simply need more space to work from home, your plans may be changing. If that's the case, it's time to connect with a local real estate professional to assess your evolving needs and determine your path together.
Bottom Line
This has been a year of change, and what you need in a home is no exception. Let's connect today to make sure you have expert guidance on your side to help you find a home that fits your remote work needs.
If you plan to sell your home soon, you should learn about the local housing sector. By doing so, you can gain the insights you need to promote your residence to the right groups of buyers and optimize your home sale earnings.
Now, let's take a look at three tips to help you analyze the local housing market before you list your residence.
1. Check Out Available Houses in Your Area
For those who want to learn about the housing market, it helps to assess how your residence stacks up against other available residences. If you check out available residences in your city or town, you can gain real estate market insights to help you price your house appropriately.
If you find your home pales in comparison to other houses in your area, there is no need to worry. Remember, you can always upgrade your residence prior to adding it to the real estate market. And as a result, you can perform home repairs to ensure your house will impress buyers as soon as it becomes available.
2. Determine If the Housing Market Favors Buyers or Sellers
Differentiating a buyer's market from a seller's market is crucial. If you study the local housing market, you can determine if the real estate sector favors buyers or sellers and plan accordingly.
In a buyer's market, there may be many quality houses available that remain available for weeks or months after they are listed. Or, in a seller's market, buyers may be motivated to purchase houses as quickly as possible.
Regardless of whether you are operating in a buyer's or seller's market, it is paramount to make your home an appealing option to buyers. If you enhance your house's curb appeal, you could boost the likelihood that your home will stand out from other available residences. Plus, if your home boasts amazing curb appeal, buyers may fall in love with your residence right away.
3. Find Out What Makes Your Home Unique
Once you study the local housing sector, you can find out what makes your house unique. Then, you can craft a home listing to showcase your residence's distinct features to potential buyers.
Of course, if you need assistance as you try to promote your residence to buyers, you may want to hire a real estate agent. Because if you have a real estate agent at your side, you can get the help you need to navigate the home selling journey like a pro.
A real estate agent will teach you about the housing market in your city or town and ensure you can showcase your residence to the right groups of buyers. Best of all, a real estate agent is happy to respond to your home selling questions and help you make informed decisions as you navigate the property selling journey.
Want to learn about the local housing sector? Thanks to the aforementioned tips, you can perform an in-depth review of the housing market in your city or town and obtain the home selling insights you need to succeed.
Tips to Sell Your House Safely Right Now
Some Highlights
Your agent now has over 6 months of experience selling houses during the pandemic and can make the process easier and safer for you today.
COVID-19 protocols and technology usage recommendations from the

 

National Association of Realtors

 

(NAR) are making it possible to sell houses right now, while agents continue to abide first and foremost by state and local regulations.
Let's connect to discuss how to sell your house

 

safely

 

in today's housing market.
Winter Will Bring a Flurry of Activity to the Housing Market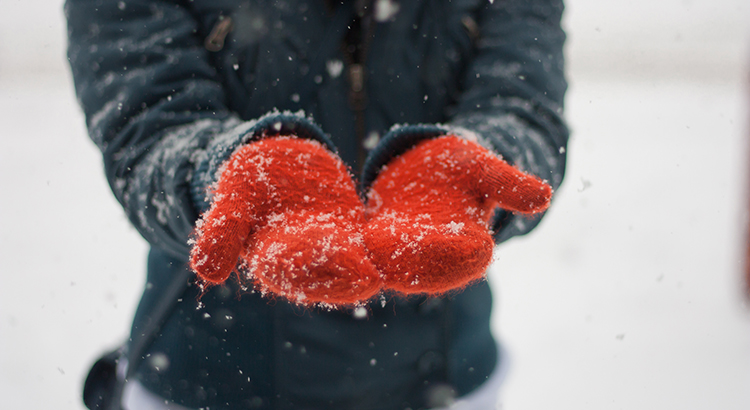 In the second half of this year, the housing market surged with activity. Today, real estate experts are looking ahead to the winter season and the forecast is anything but chilly. As Lawrence Yun, Chief Economist for the National Association of Realtors (NAR), notes:
"It will be one of the best winter sales years ever."
The typical winter slowdown in the housing market is simply not on the radar. Here's why.
While today's historically low mortgage rates are expected to remain low, they won't be this low for much longer. This could be the last chance for homebuyers to secure such low rates, and they're ready to take action. In a recent article, Bankrate explained:
"If you're looking to buy a home…expect mortgage rates to remain low into 2021. However, the possibility of rates falling to 2.5 percent or lower has faded as the U.S. economy has rebounded."
As long as we continue to see low interest rates, we'll see hopeful buyers on the hunt for their dream homes. Yun confirmed:
"The demand for home buying remains super strong…And we're still likely to end the year with more homes sold overall in 2020 than in 2019…With persistent low mortgage rates and some degree of a continuing jobs recovery, more contract signings are expected in the near future." 
The challenge, however, is the lack of homes available for sale. With that in mind, all eyes are on homeowners to see if they'll sell this winter or wait until spring. Danielle Hale, Chief Economist for realtor.com, says it's best for sellers to capitalize on this moment sooner rather than later:
"We currently see buyers sticking around in the housing market much later than we usually do this fall. If that trend continues, we will see more buyers in the market this winter, too. So, this winter is likely to be a good time to sell."
With buyers ready to stay active this winter, sellers who want to close a deal on the best possible terms shouldn't wait until spring to put their homes on the market.
Bottom Line
Experts agree the winter housing market could potentially be bigger than ever. Whether you're ready to buy or sell, let's connect today so you can be in your dream home by the new year.