Joseph D. Federico's Blog
An open house enables a buyer to check out a residence in-person and determine if this home matches or exceeds his or her expectations. However, a buyer who fails to plan ahead for an open house may struggle to make the most of this opportunity.
Ultimately, there are several things you need to consider before you attend an open house, such as:
1. Your Home Must-Haves
Make a list of must-have home features – you will be glad you did. With this list in hand, you can check out a house in-person and determine if it has the features you require.
You also may want to put together a list of preferred cities and towns prior to launching a house search. This list will allow you to hone your home search – and your search for open house events – to a small group of cities and towns.
2. Your Homebuying Budget
As a homebuyer, it is crucial to optimize your time and resources as you search for your dream residence. If you enter the housing market with a budget at your disposal, you can avoid the risk of attending an open house for a residence you may be unable to afford.
To establish a homebuying budget, you should review your current finances. You may want to meet with banks and credit unions as well. And if you get pre-approved for a mortgage, you will know exactly how much you can spend on a residence when you start your house search.
3. Your Homebuying Timeline
There is no guarantee that attending one open house will help you find your dream residence. But if you maintain flexibility, you can attend a variety of open house events and boost the likelihood of discovering a residence that falls in line with your expectations.
Furthermore, you should be ready to act quickly if you attend an open house and want to buy a residence following the event. In this scenario, you should be prepared to work diligently to put together a competitive offer to purchase the home.
As you get set to attend an open house, you may want to employ a real estate agent, too. A real estate agent can keep you up to date about open house events in cities and towns where you want to reside. Plus, a real estate agent can attend an open house with you and provide plenty of homebuying tips and insights.
Let's not forget about the support a real estate agent provides once you find a house you want to purchase, either. At this point, a real estate agent will help you put together a competitive homebuying proposal. And if your offer to purchase is accepted, a real estate agent will help you finalize your house purchase.
Consider the aforementioned factors closely before you attend an open house. By doing so, you can prepare for an open house and use the opportunity to determine if a residence is right for you.
Home Builders Ramp Up Construction Based on Demand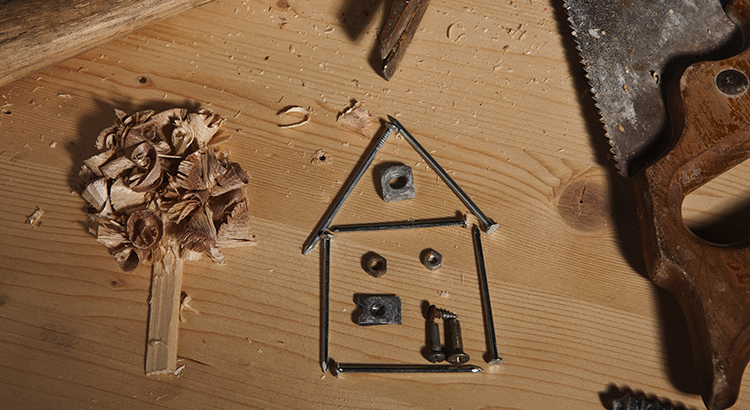 If you're thinking of buying a home, there really is no time like the present. With today's low mortgage rates, you have a great opportunity to get more home for your money. The challenge is inventory. Like you, many buyers want to capitalize on these market conditions, and it's leading to more buyer competition and bidding wars.
If you're having a hard time finding a home to buy, it may be time to talk to your trusted real estate advisor about a newly built home. Early indicators show new-home construction is beginning to ramp up. While new homes alone won't be able to fix all of the inventory challenges, this does mean you'll soon have more options as you search for a home. As a buyer, a newly built home may be exactly what you're looking for – it's brand new, and with builder customization options, it's uniquely yours from the ground up.
Here's what industry experts are saying about new homes coming to market:
Nadia Evangelou, Senior Economist and Director of Forecasting at the National Association of Realtors (NAR), says recent research could indicate upward momentum when it comes to new home construction. Evangelou refers to the volume of new homes where construction began during a set period, known in the industry as housing starts.
According to that research, housing starts reached their highest level since 2006 in March of this year – an encouraging sign for the industry. While they dipped slightly in April, Evangelou reiterates that the level of housing construction is heading in a positive direction compared to recent years:
"…we are currently building 24% more homes than we typically have built in April in the last couple of decades. Thus, housing construction is trending upward with housing starts likely to reach 1.6 million for all of 2021 and rise further to 1.7 million in 2022."
As new data pours in, it further confirms this trend. According to the latest Monthly New Residential Construction report from the U.S. Census Bureau, housing starts increased even more in May, which continues the ongoing upward trend (see graph below) and indicates that ground is being broken on even more new homes.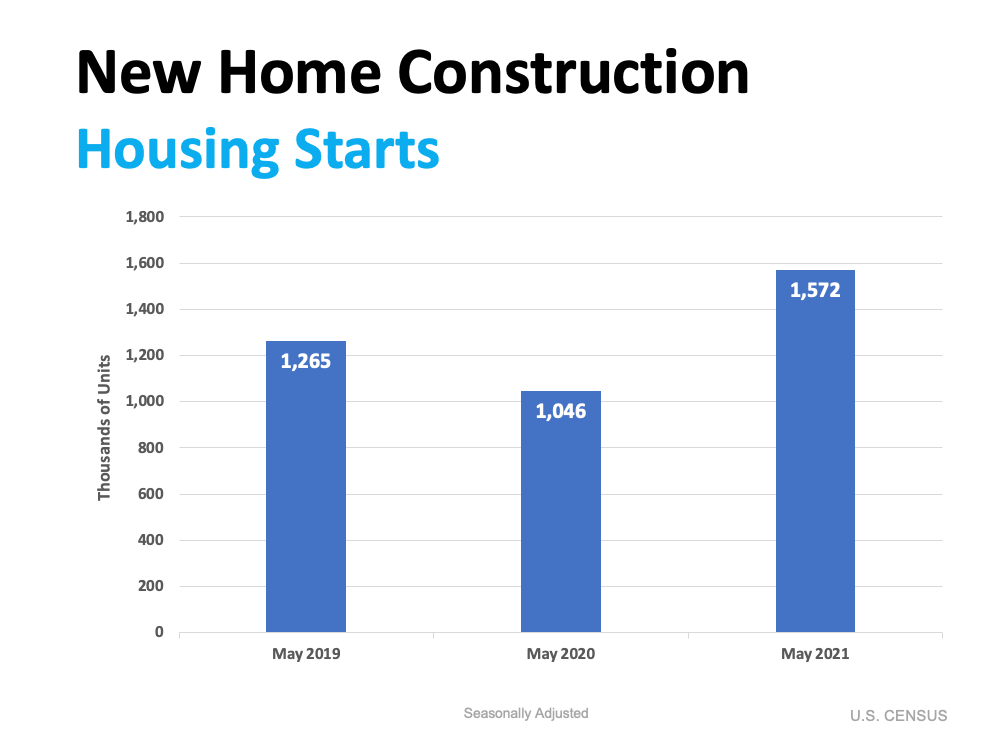 Robert Dietz, Chief Economist and Senior Vice President of Economics and Housing Policy for the National Association of Home Builders (NAHB), singles out another encouraging sign:
"It is also worth noting that the number of single-family homes permitted but not started construction continued to increase in May, rising to 142,000 units."
This insight that there's also an uptick in single-family homes permitted serves as an additional sign that more new homes lie ahead. It's important to realize that the construction doesn't have to start on these homes before you may be able to purchase one. According to the Monthly New Residential Sales report from the U.S. Census Bureau, many new homes are selling before construction even begins (see graph below):
These signs are all good news for housing inventory. And as the recent challenges of rising lumber prices and dwindling lumber supply begin to improve, builders will be able to increase their production even more in the months ahead.
Bottom Line
While the inventory challenges we're facing today won't be solved overnight, the increase in new-home construction means your house may have more competition in the market. Let's connect to talk about finding your dream home and the newly built homes available in our area.
Are We in a Housing Bubble? Experts Say No.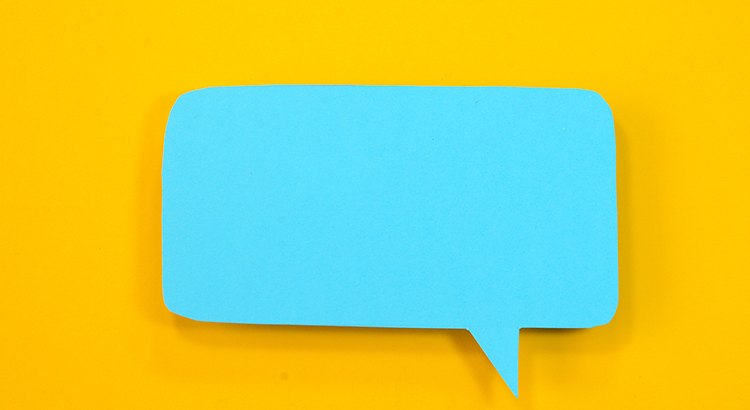 The question of whether the real estate market is a bubble ready to pop seems to be dominating a lot of conversations – and everyone has an opinion. Yet, when it comes down to it, the opinions that carry the most weight are the ones based on experience and expertise.
Here are four expert opinions from professionals and organizations that have devoted their careers to giving great advice to the housing industry.
The Joint Center for Housing Studies in their The State of the Nation's Housing 2021 report:
"… conditions today are quite different than in the early 2000s, particularly in terms of credit availability. The current climb in house prices instead reflects strong demand amid tight supply, helped along by record-low interest rates."
Nathaniel Karp, Chief U.S. Economist at BBVA:
"The housing market is in line with fundamentals as interest rates are attractive and incomes are high due to fiscal stimulus, making debt servicing relatively affordable and allowing buyers to qualify for larger mortgages. Underwriting standards are still strong, so there is little risk of a bubble developing."
Bill McBride of Calculated Risk:
"It's not clear at all to me that things are going to slow down significantly in the near future. In 2005, I had a strong sense that the hot market would turn and that, when it turned, things would get very ugly. Today, I don't have that sense at all, because all of the fundamentals are there. Demand will be high for a while, because Millennials need houses. Prices will keep rising for a while, because inventory is so low."
Mark Fleming, Chief Economist at First American:
"Looking back at the bubble years, house prices exceeded house-buying power in 2006 nationally, but today house-buying power is nearly twice as high as the median sale price nationally…

Many find it hard to believe, but housing is actually undervalued in most markets and the gap between house-buying power and sale prices indicates there's room for further house price growth in the months to come."
Bottom Line
All four strongly believe that we're not in a bubble and won't see crashing home values as we did in 2008. And they're not alone – Goldman Sachs, JP Morgan, Morgan Stanley, and Merrill Lynch share the same opinion.
What Do Experts See on the Horizon for the Second Half of the Year?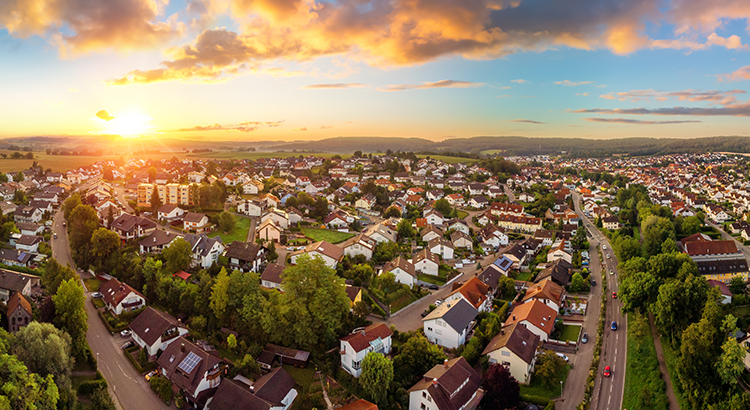 As we move into the latter half of the year, questions about what's to come are top of mind for buyers and sellers. Near record-low mortgage rates coupled with rising home price appreciation kicked off a robust housing market in the first half of 2021, but what does the forecast tell us about what's on the horizon?
Mortgage Rates Will Likely Increase, but Remain Low
Many experts are projecting a rise in interest rates. The latest Quarterly Forecast from Freddie Mac states:
"We forecast that mortgage rates will continue to rise through the end of next year. We estimate the 30-year fixed mortgage rate will average 3.4% in the fourth quarter of 2021, rising to 3.8% in the fourth quarter of 2022."
However, even as mortgage rates rise, the anticipated increase is expected to be modest at most, and still well below historical averages. Rates remaining low is good news for homebuyers who are looking to maximize their purchasing power. The same report from Freddie Mac goes on to say:
"While higher mortgage rates will help slow the pace of home sales and moderate house price growth, we expect overall housing market activity will remain robust. Our forecast has total home sales, the sum of new and existing home sales, at 7.1 million in 2021...."
Home Price Appreciation Will Continue, but Price Growth Will Likely Slow
Joe Seydl, Senior Markets Economist at J.P. Morgan, projects home prices to continue rising as well, indicating buyers interested in purchasing a home should do so sooner rather than later. Waiting for rates or home prices to fall may not be wise:
"Homebuyers—interest rates are still historically low, though they are inching up. Housing prices have spiked during the last six-to-nine months, but we don't expect them to fall soon, and we believe they are more likely to keep rising. If you are looking to purchase a new home, conditions now may be better than 12 months hence." 
Other experts remain optimistic about home prices, too. The graph below highlights 2021 home price forecasts from multiple industry leaders: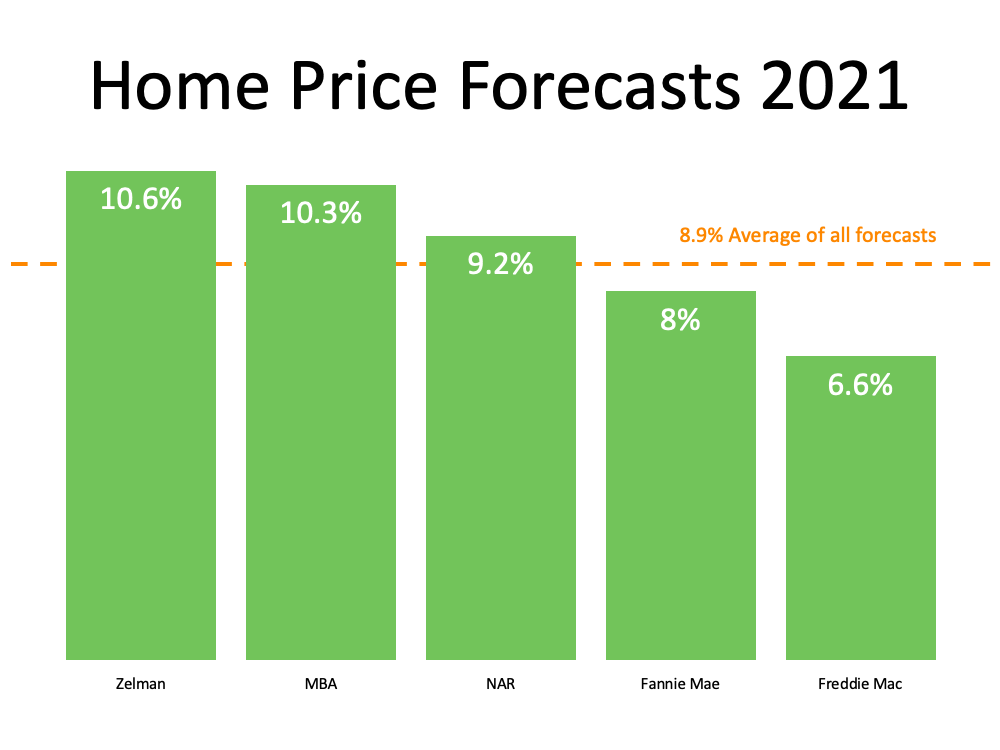 Inventory Remains a Challenge, but There's Reason To Be Optimistic
Home prices are rising, but they should moderate as more housing inventory comes to market. George Ratiu, Senior Economist at realtor.com, notes there are signs that we may see the current inventory challenges lessen, slowing the fast-paced home price appreciation and creating more choices for buyers:
"We have seen more new listings this year compared with 2020 in 11 of the last 13 weeks. The influx of new sellers over the last couple of months has been especially helpful in slowing price gains."
New home starts are also showing signs of improvement, which further bolsters hopes of more options coming to market. Robert Dietz, Chief Economist at the National Association of Home Builders (NAHB), writes:
"As an indicator of the economic impact of housing, there are now 652,000 single-family homes under construction. This is 28% higher than a year ago."
Finally, while it may not fundamentally change the market conditions we're currently experiencing, another reason to be optimistic more homes might come to market: our improving economy. Mark Fleming, Chief Economist at First American, notes:
"A growing economy in the summer months has multiple implications for the housing market. Growing consumer confidence, a stronger labor market, and higher wages bode well for housing demand. While a growing economy and improving public health conditions may also spur hesitant existing owners to list their homes for sale, it's unlikely to significantly ease the super sellers' market conditions."
Bottom Line
As we look at the forecast for prices, interest rates, inventory, and home sales, experts remain optimistic about what's on the horizon for the second half of 2021. Let's connect today to discuss how we can navigate the market together in the coming months.
What To Expect as Appraisal Gaps Grow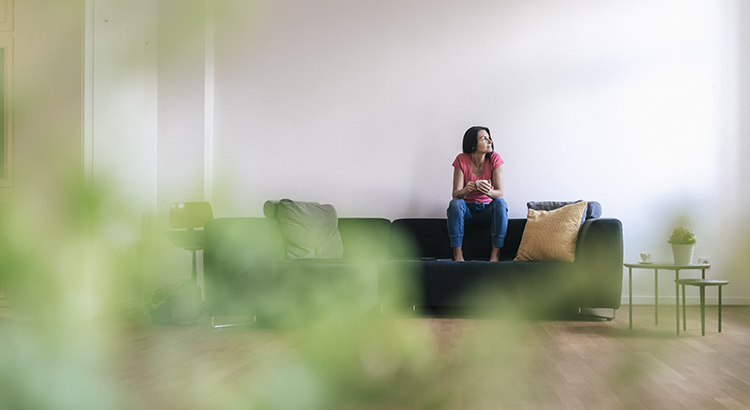 In today's real estate market, low inventory and high demand are driving up home prices. As many as 54% of homes are getting offers over the listing price, based on the latest Realtors Confidence Index from the National Association of Realtors (NAR). Shawn Telford, Chief Appraiser at CoreLogic, elaborates:
"The frequency of buyers being willing to pay more than the market data supports is increasing."
While this is great news for today's sellers, it can be tricky to navigate if the price of your contract doesn't match up with the appraisal for the house. It's called an appraisal gap, and it's happening more in today's market than the norm.
According to recent data from CoreLogic, 19% of homes had their appraised value come in below the contract price in April of this year. That's more than double the percentage in each of the two previous Aprils.
The chart below uses the latest insights from NAR's Realtors Confidence Index to showcase how often an issue with an appraisal slowed or stalled the momentum of a house sale in May of this year compared to May of last year.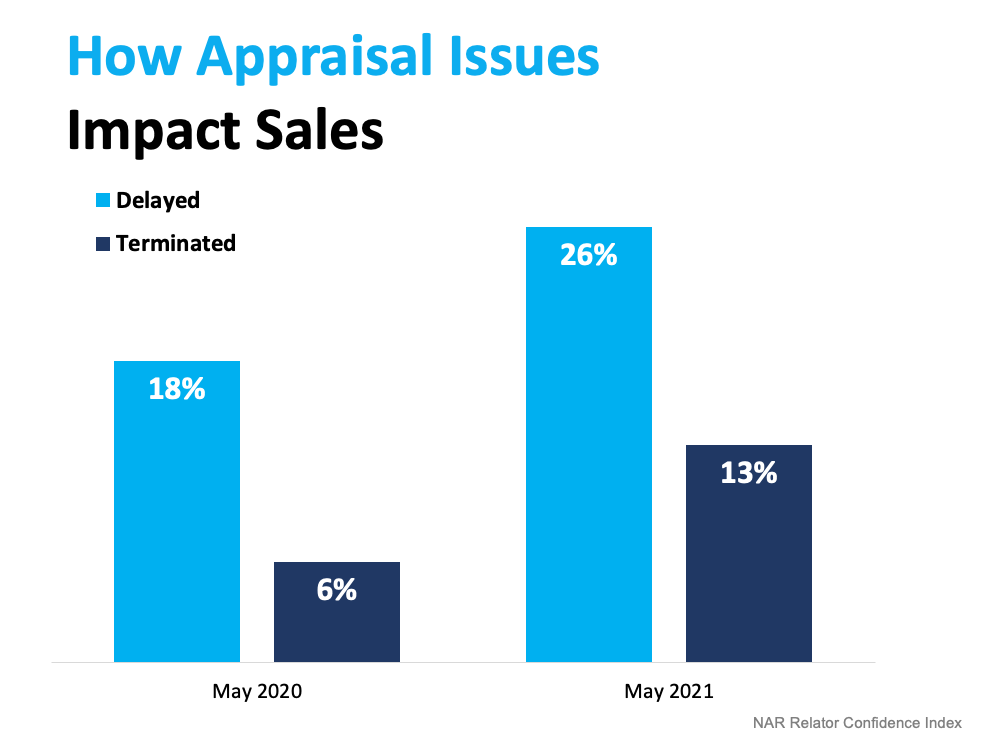 If an appraisal comes in below the contract price, the buyer's lender won't loan them more than the house's appraised value. That means there's going to be a gap between the amount of loan the buyer can secure and the contract price on the house.
In this situation, both the buyer and seller have a vested interest in making sure the sale moves forward with little to no delay. The seller will want to make sure the deal closes, and the buyer won't want to risk losing the home. That's why it's common for sellers to ask the buyer to make up the difference themselves in today's competitive market.
Bottom Line
Whether you're buying or selling, let's connect so you have an ally throughout the process to help you navigate the unexpected, including appraisal gaps.