Joseph D. Federico's Blog
Home Mortgage Rates by Decade [INFOGRAPHIC]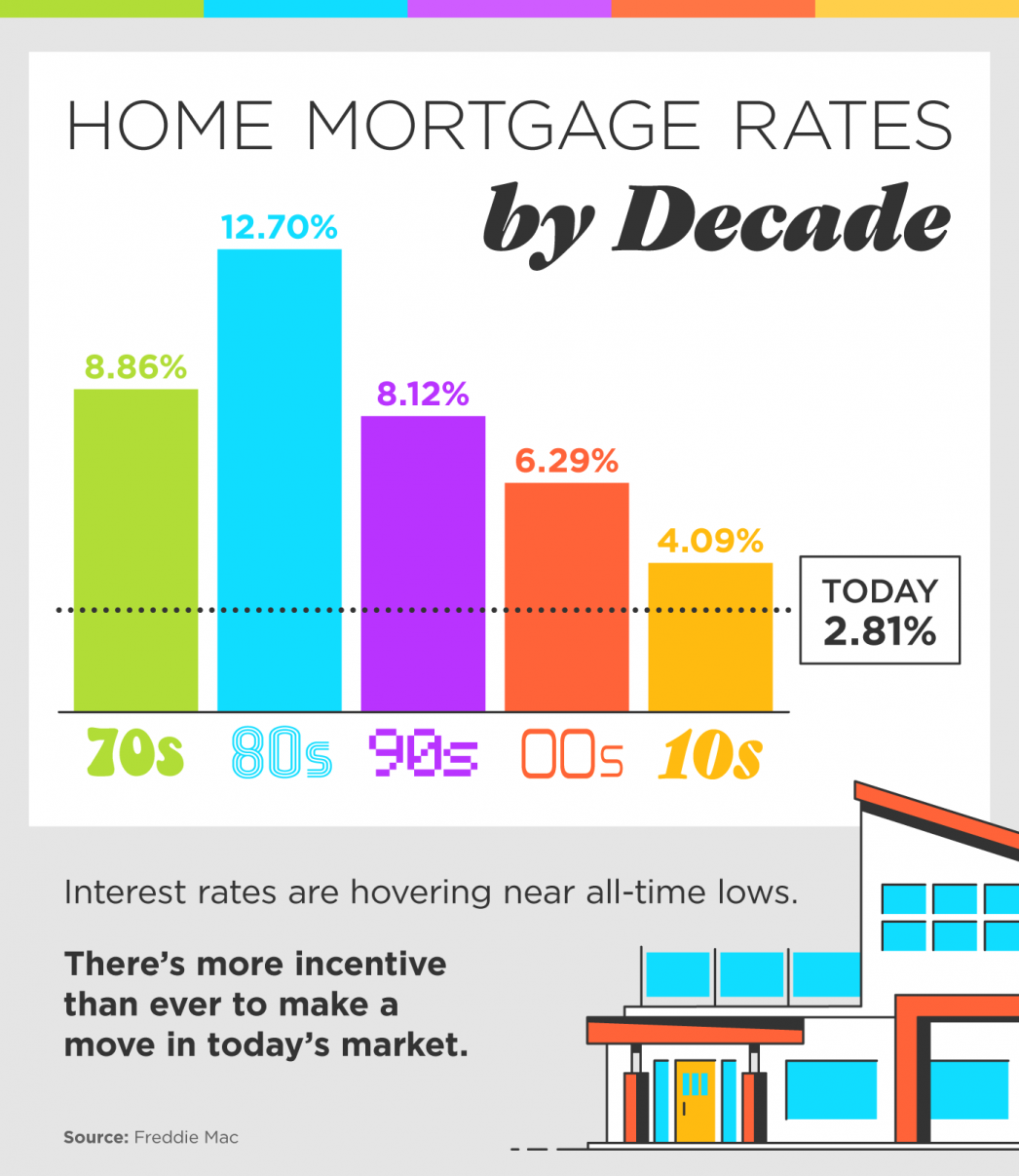 Some Highlights
Mortgage interest rates have dropped considerably over the past year, and compared to what we've seen in recent decades, it's a great time to buy a home.
Locking in a low rate today could save you thousands of dollars over the lifetime of your home loan, but these low rates may not last

 

forever.
If you're in a position to buy a home, let's connect to determine your best move in today's housing market while interest rates are still in your favor.
Will Low Mortgage Rates Continue through 2021?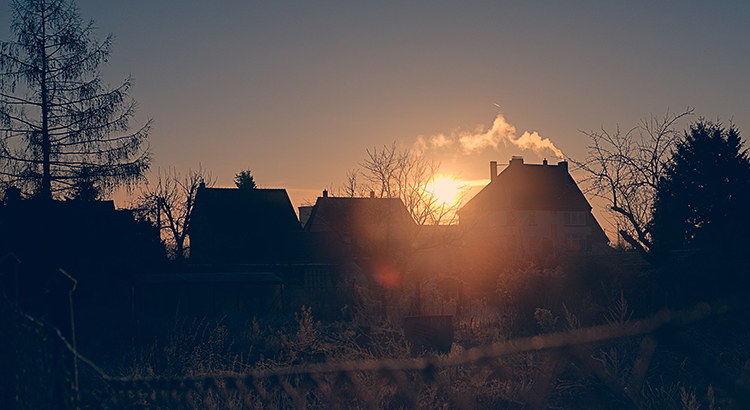 With mortgage interest rates hitting record lows so many times recently, some are wondering if we'll see low rates continue throughout 2021, or if they'll start to rise. Recently, Freddie Mac released their quarterly forecast, noting:
"The average 30-year fixed-rate mortgage hit a record low over a dozen times in 2020 and the low interest rate environment is projected to continue through this year. We expect interest rates to average below 3% through the end of 2021. While this is a modest rise from 2020 averages, the recent vote by the Federal Reserve to keep interest rates anchored near zero should keep rates low."
As shown in the graph below, Freddie Mac is projecting low rates going forward with a modest rise that's expected to continue through 2022.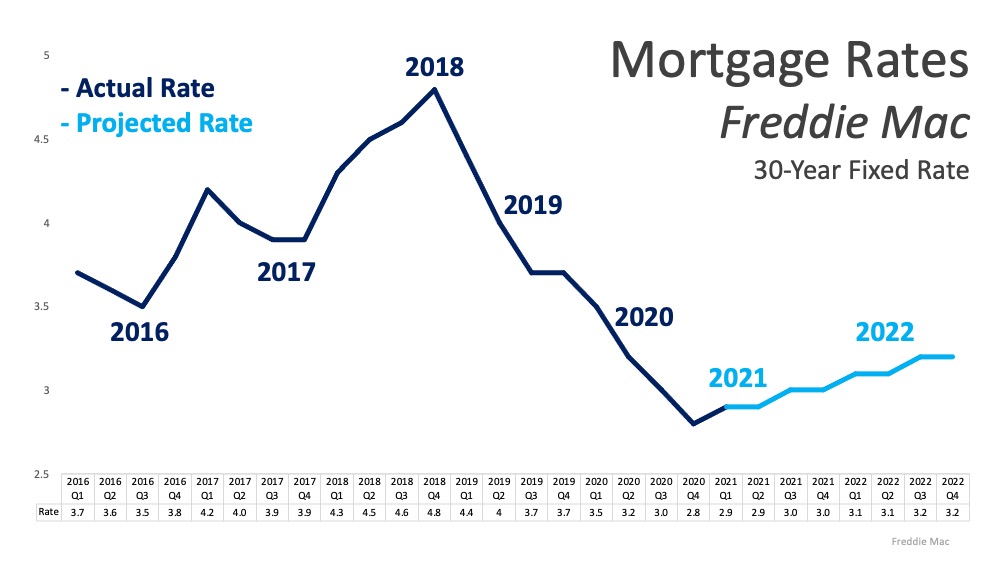 Freddie Mac isn't the only authority forecasting low rates with a slight rise. Fannie Mae, The Mortgage Bankers Association (MBA), and the National Association of Realtors (NAR) also anticipate low rates with a small increase as 2021 continues on. Here's the quarterly breakdown of their projections and how they're expected to play out over the next year: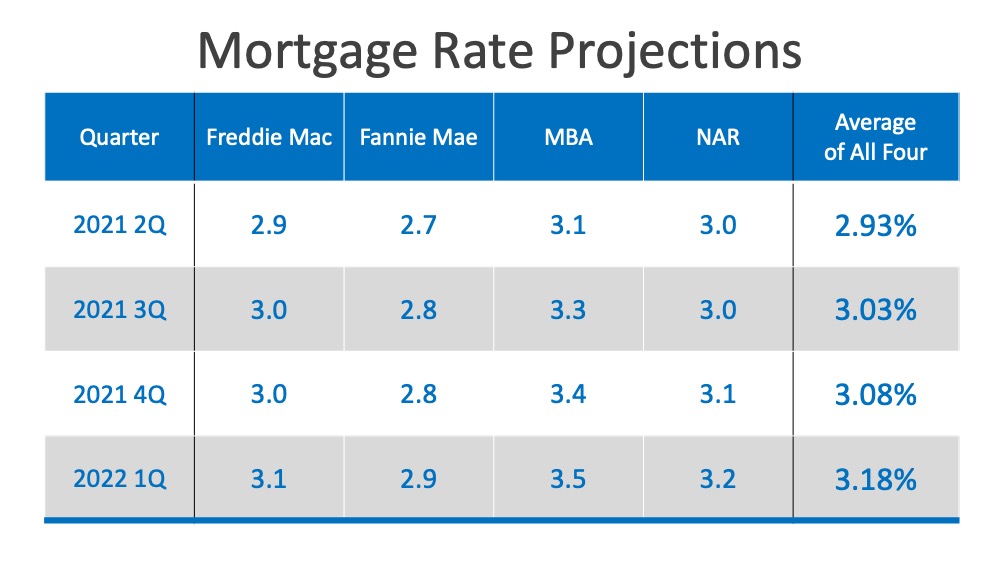 It's important to note that, while a small change in interest rates can have a substantial impact on monthly mortgage payments, these rates are still incredibly low compared to where they were just a couple of years ago.
What does this mean for buyers?
Low mortgage rates are creating an outstanding opportunity for current homebuyers to get more for their money while staying within their budget. As the economy gets stronger and we recover from the challenges of 2020, it's natural for rates to potentially rise in response to a healthier economy. Mark Fleming, Chief Economist at First American, reminds us:
"Rising interest rates reduce house-buying power and affordability, but are often a sign of a strong economy, which increases home buyer demand. By any historic standard, today's mortgage rates remain historically low and will continue to boost house-buying power and keep purchase demand robust."
With low rates fueling activity among hopeful buyers, there are a lot of people who are highly motivated and looking for homes to purchase right now. In this environment, it can be challenging to find a home to buy, so a local real estate agent will be key to your success if you're thinking of buying too. Working with a trusted real estate professional to navigate the process while rates are in your favor might be the best move you can make.
Bottom Line
If you're ready to buy a home, it may be wise to make your move before mortgage rates begin to rise. Let's connect to discuss how today's low rates can create more opportunities for you this year.
3 Ways Home Equity Can Have a Major Impact on Your Life
There have been a lot of headlines reporting on how homeowner equity (the difference between the current market value of your home and the amount you owe on your mortgage) has dramatically increased over the past few years. CoreLogic indicated that equity increased for the average homeowner by $17,000 in the last year alone. ATTOM Data Solutions, in their latest U.S. Home Equity Report, revealed that 30.2% of the 59 million mortgaged homes in the United States have at least 50% equity. That doesn't even include the 38% of homes that are owned free and clear, meaning they don't have a mortgage at all.
How can equity help a household?
Having equity in your home can dramatically impact your life. Equity is like a savings account you can tap into when you need cash. Like any other savings, you should be sensible in how you use it, though. Here are three good reasons to consider using your equity.
1. You're experiencing financial hardship (job loss, medical expenses, etc.)
Equity gives you options during difficult financial times. With equity, you could refinance your house to get cash which may ease the burden. It also puts you in a better position to talk to the bank about restructuring your home loan until you can get back on your feet.
Today, there are 2.7 million Americans who are currently in a forbearance program because of the pandemic. Ninety percent of those in the program have at least 10% equity. That puts them in a better position to get a loan modification instead of facing foreclosure because many banks will see the equity as a form of collateral in a new deal. If you're in this position, even if you can't get a modification, the equity allows you the option to sell your house and walk away with your equity instead of losing the house and your investment in it.
2. You need money to start a new business
We've all heard the stories about how many great American companies started in the founder's garage (i.e., Disney, Hewlett Packard, Apple, Yankee Candle, Keeping Current Matters). What we might not realize, however, is the garage (along with the rest of the home) supplied the start-up money for many of these companies in the form of a refinance.
If you're passionate about an idea you have for a new product or service, the equity in your home may enable you to make that dream a reality.
3. You want to invest in a loved one's future
It's been a long-standing tradition in this country for many households to help pay college expenses for their children. Some have tapped into the equity in their homes to do that.
Additionally, George Ratiu, Senior Economist for realtor.com, notes:
"52% of Americans who bought their first home in 2020 said they got help with their down payment from friends or family. The number one lender? Their parents."
It's safe to assume a percentage of that down payment money likely came from home equity.
Bottom Line
Savings in any form is a good thing. The forced savings you can earn from making a mortgage payment enables you to build wealth through home equity. That equity can come in handy in both good and more challenging times.
Millennials: Is It Time to Buy a Bigger Home?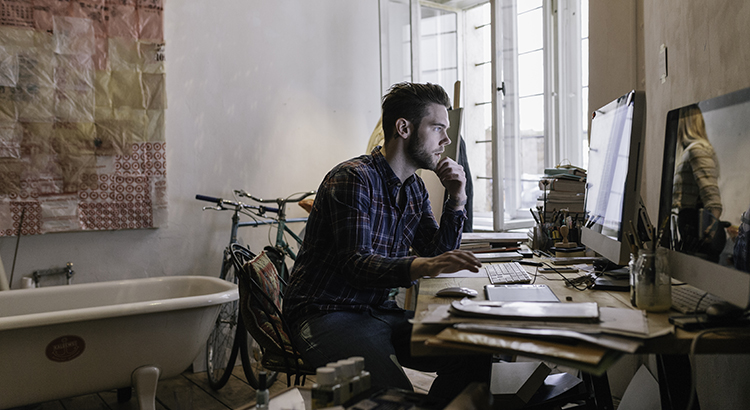 In today's housing market, all eyes are on millennials. Not only are millennials the largest generation, but they're also currently between 25 and 40 years old. These are often considered prime homebuying years when many people begin to form their own households and invest in real estate. If you're like many millennials who are spending much more time at home these days, you may have a growing need for more space or upgraded features, making moving more desirable than ever.
For those millennials who already own a home, there's a great opportunity to move up in 2021. Danielle Hale, Chief Economist at realtor.com, explains:
"Older millennials will be trade-up buyers with many having owned their first homes long enough to see substantial equity gains."
Even if you bought a home sometime in the last few years, you may have more equity than you realize, and that's a big factor to consider when you're thinking about moving. According to the Homeowner Equity Insights Report from CoreLogic:
"In the third quarter of 2020, the average homeowner gained approximately $17,000 in equity during the past year. This marks the largest average equity gain since the first quarter of 2014." 
Growing equity can be the driver you're looking for to fund your next move, especially if what you need in a home is changing right now. As equity builds over time, it can be put toward the down payment on your next home.
In addition to equity gains, today's housing market affordability is powered by record-low mortgage rates, so moving at a time when you can get more for your money may be more realistic than you think.
Bottom Line
If you're a millennial thinking about moving this year, you're not alone. Let's connect to shed light on the equity you have in your current home and the opportunities it can create.
Whether you've just moved into a new neighborhood or have lived there for decades, there are many advantages to maintaining friendly relations with neighbors.
If, on the other hand, you adopt more of an isolated lifestyle, then the experience of home ownership may be a lot less fulfilling.
Taking the time to have a friendly chat with your neighbors, once in a while, can be helpful both now and in the long-term. While not everyone has a gregarious, outgoing personality, making the occasional effort to say hello can open the door to a number of benefits.
Home Security: The best neighborhoods are those in which everyone looks out for one another. When you know your neighbors on a first-name basis, they'll be a lot more likely to keep an eye on your house and let you (or the police) know when they observe any suspicious activity. It's also nice to feel comfortable enough to be able to ask your neighbors to watch your property while you're away -- either for the weekend or when you're on vacation. Even in low-crime areas, burglaries and vandalism has been known to happen, so it's in everyone's best interest to know their neighbors and be ready to help. Although Neighborhood Watch groups are not active everywhere, there's no reason why people still can't be alert and responsive to loitering, trespassing, or other questionable activity.
Networking Benefits: You may not need a plumber, electrician, or a reasonably priced HVAC technician, right now, but sooner or later, you will -- guaranteed! There may also come a time when you need emergency child care or fast help jump-starting your vehicle. You're probably not going to approach your neighbors for help if you don't know them, but there's a good chance you will if you do have a rapport. By sharing information, resources, and recommendations with neighbors, you'll be paving the way for a mutually beneficial relationship. While you may or may not become best friends, it's nice to know that there's someone nearby you can count on for support and help.
Feeling of community: Although some neighborhoods have a more friendly, close-knit feeling than others, it's often easy to break the ice with neighbors when you're outside -- either doing yard work, walking your dog, or going for a stroll. By taking the initiative to welcome new people into the neighborhood, you'll not only have a positive impact on their lives, but you might even forge a new, long-term friendship. You can also make social connections by chatting with people at yard sales, block parties, or by joining and being active in neighborhood Facebook or Nextdoor groups. While it may feel easier to just keep to yourself and avoid venturing outside of your comfort zone, becoming part of a larger community in your neighborhood (and beyond) is often much more rewarding!