Joseph D. Federico's Blog
If you plan to sell your house in the foreseeable future, it usually pays to clean out the garage. In fact, a home seller who declutters the garage today can show homebuyers the true size and beauty of this space, thereby increasing a house's overall appeal.
Ultimately, it won't take long for a home seller to declutter the garage – here are three tips to help you remove clutter from your garage before you list your residence.
1. Identify Excess Items
Old automotive parts, tools and other excess items can take up lots of space in your garage. However, a homeowner who dedicates the necessary time and resources to identify garage clutter can plan accordingly.
Separate must-keep garage items from excess items. Then, you can determine exactly how much space that you'll need to store the items that you want to keep.
For many homeowners, storage cabinets and shelving units make it easy to keep track of items in a garage. Or, if you need extra space to store garage items, you may want to consider renting a storage unit until you finalize your home sale.
2. Sell, Donate or Dispose of Excess Items
When it comes to excess garage items, there is no need to delay the inevitable. If you sell, donate or dispose of garage clutter, you can quickly eliminate excess items from your garage.
Selling your excess garage items online or hosting a yard sale may prove to be worthwhile. In both instances, you can generate interest in assorted garage items and earn extra cash at the same time.
In addition, you may be able to donate excess garage items to local charities. If you reach out to local charities and learn about their donation policies, you can find out which charities will accept your excess garage items and schedule donation pick-ups.
On the other hand, if you find garage items that are broken or damaged, dispose of these items. That way, you can free up space in your garage immediately.
3. Conduct In-Depth Garage Cleaning
After you remove garage clutter, it is important to spend some time cleaning your garage from top to bottom. This will enable you to transform an ordinary garage into a spectacular one.
If you need extra help with garage cleaning, don't hesitate to contact a professional home cleaning company. This business likely employs friendly, diligent cleaning experts who can help you accelerate the garage cleaning process.
Lastly, if you're searching for the best ways to improve your home before you list it, you may want to hire a real estate agent.
A real estate agent can offer honest, unbiased garage cleaning recommendations and suggestions. Plus, this housing market professional will set up home showings, keep you up to date about offers on your residence and ensure you can enjoy a fast, seamless home selling experience.
Want to sell your residence soon? Use the aforementioned tips, and you can bolster your garage's appearance in no time at all.
What Does 2021 Have in Store for Home Values?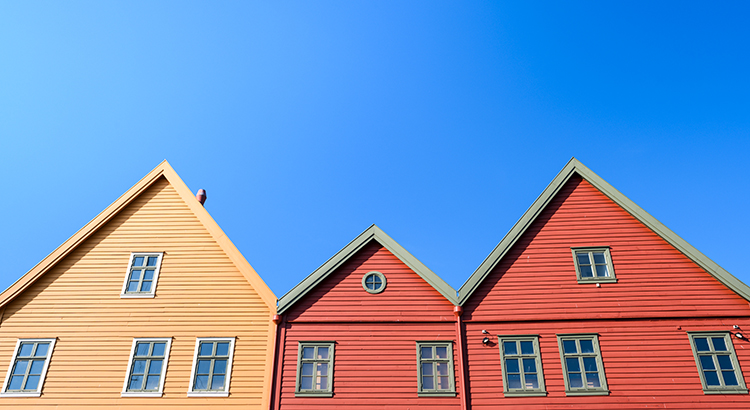 According to the latest CoreLogic Home Price Insights Report, nationwide home values increased by 8.2% over the last twelve months. The dramatic rise was brought about as the inventory of homes for sale reached historic lows at the same time buyer demand was buoyed by record-low mortgage rates. As CoreLogic explained:
"Home price growth remained consistently elevated throughout 2020. Home sales for the year are expected to register above 2019 levels. Meanwhile, the availability of for-sale homes has dwindled as demand increased and coronavirus (COVID-19) outbreaks continued across the country, which delayed some sellers from putting their homes on the market.

While the pandemic left many in positions of financial insecurity, those who maintained employment and income stability are also incentivized to buy given the record-low mortgage rates available; this is increasing buyer demand while for-sale inventory is in short supply."
Where will home values go in 2021?
Home price appreciation in 2021 will continue to be determined by this imbalance of supply and demand. If supply remains low and demand is high, prices will continue to increase.
Housing Supply
According to the National Association of Realtors (NAR), the current number of single-family homes for sale is 1,080,000. At the same time last year, that number stood at 1,450,000. We are entering 2021 with approximately 270,000 fewer homes for sale than there were one year ago.
However, there is some speculation that the inventory crush will ease somewhat as we move through the new year for two reasons:
1. As the health crisis eases, more homeowners will be comfortable putting their houses on the market.
2. Some households impacted financially by the pandemic will be forced to sell.
Housing Demand
Low mortgage rates have driven buyer demand over the last twelve months. According to Freddie Mac, rates stood at 3.72% at the beginning of 2020. Today, we're starting 2021 with rates one full percentage point lower than that. Low rates create a great opportunity for homebuyers, which is one reason why demand is expected to remain high throughout the new year.
Taking into consideration these projections on housing supply and demand, real estate analysts forecast homes will continue to appreciate in 2021, but that appreciation may be at a steadier pace than last year. Here are their forecasts: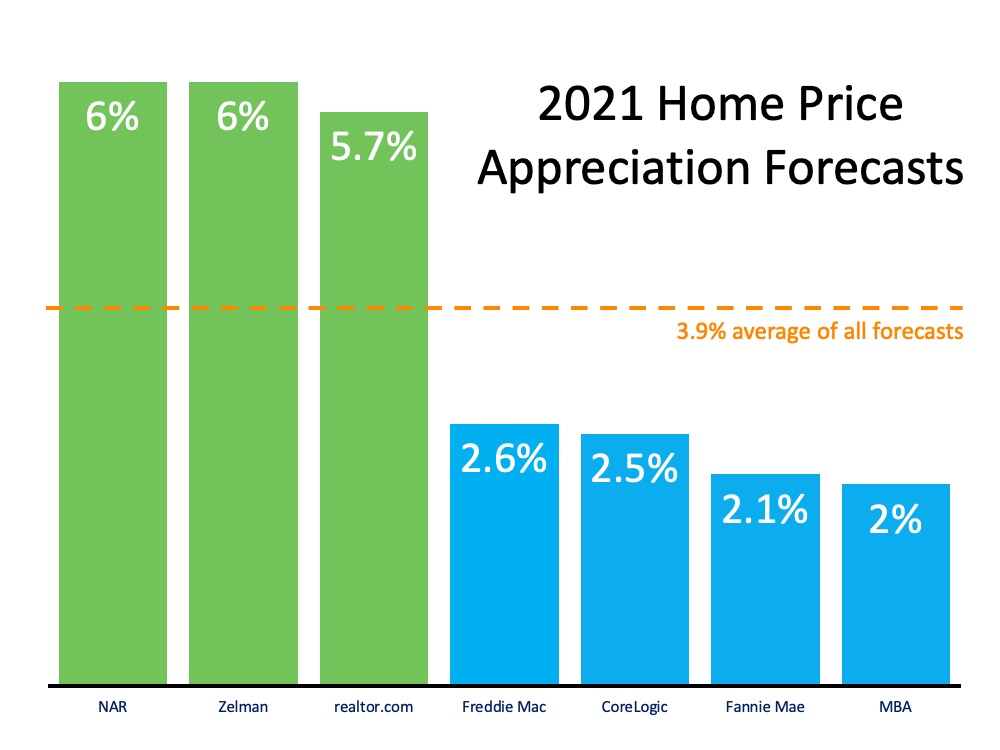 Bottom Line
There's still a very limited number of homes for sale for the great number of purchasers looking to buy them. As a result, the concept of "supply and demand" mandates that home values in the country will continue to appreciate.
Reasons to Hire a Real Estate Professional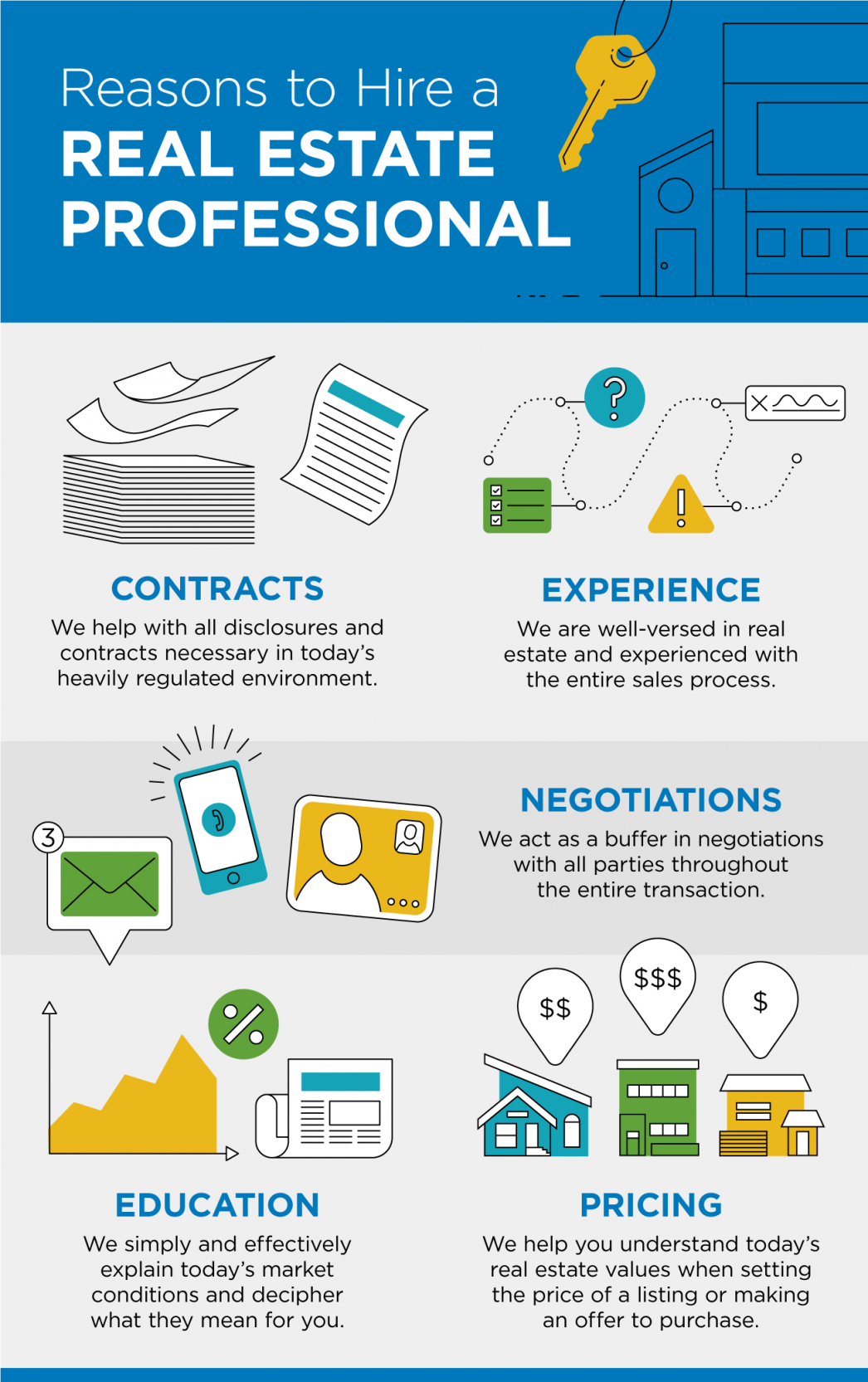 Some Highlights
Choosing the right real estate professional to work with is one of the most important decisions you can make in your homebuying or selling process.
The right agent can explain current market conditions and break down exactly what they mean for you.
If you're considering buying or selling a home this year, let's connect so you can work with someone who has the experience to answer all of your questions about pricing, contracts, negotiations, and more.
Is This the Year to Sell My House?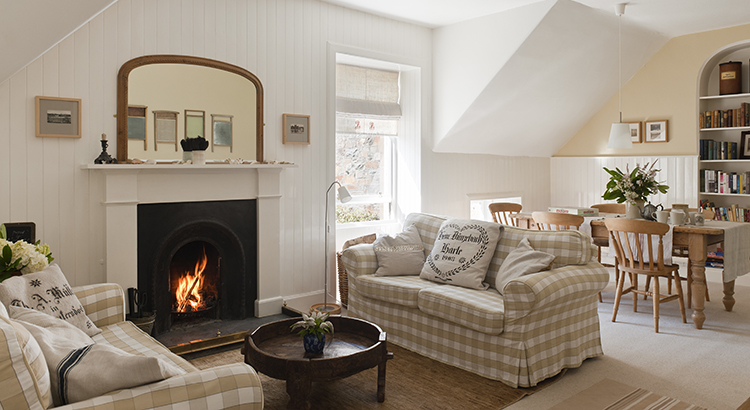 If one of the questions you're asking yourself is, "Should I sell my house this year?" consumer sentiment about selling today should boost your confidence in the right direction. Even with the current health crisis that continues to challenge our nation, Americans still feel good about selling a house. Here's why.
According to the latest Home Purchase Sentiment Index from Fannie Mae, 57% of consumer respondents to their survey indicate now is a good time to buy a home, while 59% feel it's a good time to sell one:
"The percentage of respondents who say it is a good time to sell a home remained the same at 59%, while the percentage who say it's a bad time to sell decreased from 35% to 33%. As a result, the net share of those who say it is a good time to sell increased 2 percentage points month over month."
As you can see, many still believe that, despite everything going on in the world, it is still a good time to sell a house.
Why is now a good time to sell?
There simply are not enough homes available to meet today's buyer demand, and they're selling just as quickly as they're coming to the market. According to the National Association of Realtors (NAR), unsold inventory available today sits at a 2.3-month supply at the current sales pace, which is down from a 2.5-month supply from the previous month. This record-low inventory is not even half of what we need for a normal or neutral housing market, which should have a 6.0-month supply of unsold inventory to balance out.
With so few homes available for buyers to choose from, we're in a true sellers' market. Homeowners ready to make a move right now have the opportunity to negotiate the best possible contracts with buyers who are feeling the pull of intense competition when it comes to finding their dream home. Lawrence Yun, Chief Economist for NAR, notes how quickly homes are selling right now, further confirming the benefits to sellers this season:
"The market is incredibly swift this winter with the listed homes going under contract on average at less than a month due to a backlog of buyers wanting to take advantage of record-low mortgage rates." 
However, this sweet spot for sellers won't last forever. As more homes are listed this year, this tip toward sellers may start to wane. According to Danielle Hale, Chief Economist at realtor.com, more choices for buyers are on the not-too-distant horizon:
"The bright spot for buyers is that more homes are likely to become available in the last six months of 2021. That should give folks more options to choose from and take away some of their urgency. With a larger selection, buyers may not be forced to make a decision in mere hours and will have more time to make up their minds."
Bottom Line

If you're ready to make a move, you can feel good about the current sentiment in the market and the advantageous conditions for today's sellers. Let's connect today to determine the best next step when it comes to selling your house this year.
The Importance of Home Equity in Building Wealth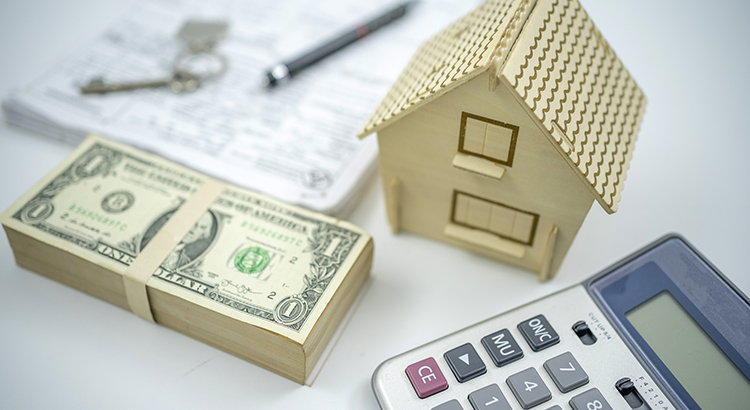 Homeownership has always been the first rung on the ladder leading to household wealth. As Freddie Mac recently posted:
"Homeownership has cemented its role as part of the American Dream, providing families with a place that is their own and an avenue for building wealth over time. This 'wealth' is built, in large part, through the creation of equity…Building equity through your monthly principal payments and appreciation is a critical part of homeownership that can help you create financial stability."
Home equity is the difference between the current market value of your house and the amount you currently owe on your mortgage. To estimate your equity, subtract your mortgage balance from the market value of your home.
You can find what you owe on your mortgage by looking at your last monthly statement or by contacting your lender. If you need help determining the current market value of your home, contact a local real estate professional.
Is homeownership truly a better path to wealth than renting?
Some argue that renting eliminates the cost of property taxes and home repairs. Every potential renter must realize that all the expenses the landlord incurs (property taxes, repairs, insurance, etc.) are already baked into the rent payment – along with a profit margin. You don't save money by renting.
As proof of this, First American broke down the net worth of homeowners and renters by income categories. Here are their findings: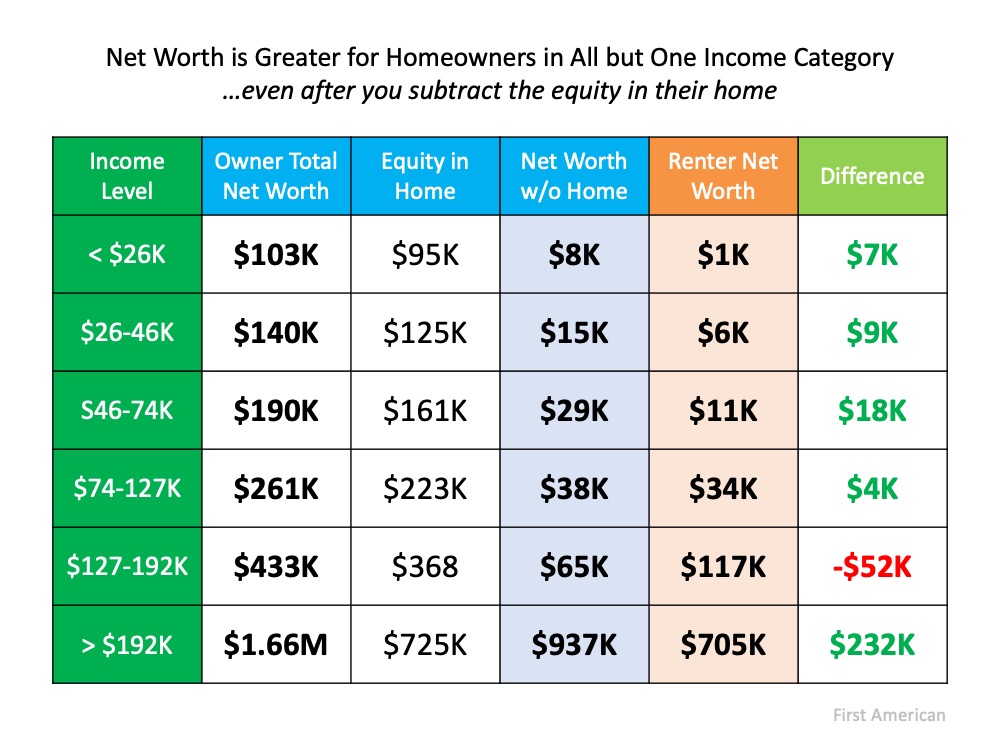 Only one income category ($127-192K) has a higher net worth for renters over homeowners. Every other category shows that being a homeowner leads to greater accumulated wealth.
According to the latest Homeowner Equity Insights Report from CoreLogic, the average homeowner gained $17,000 in equity in just the last year. Here's a breakdown of the year-over-year equity gain by state: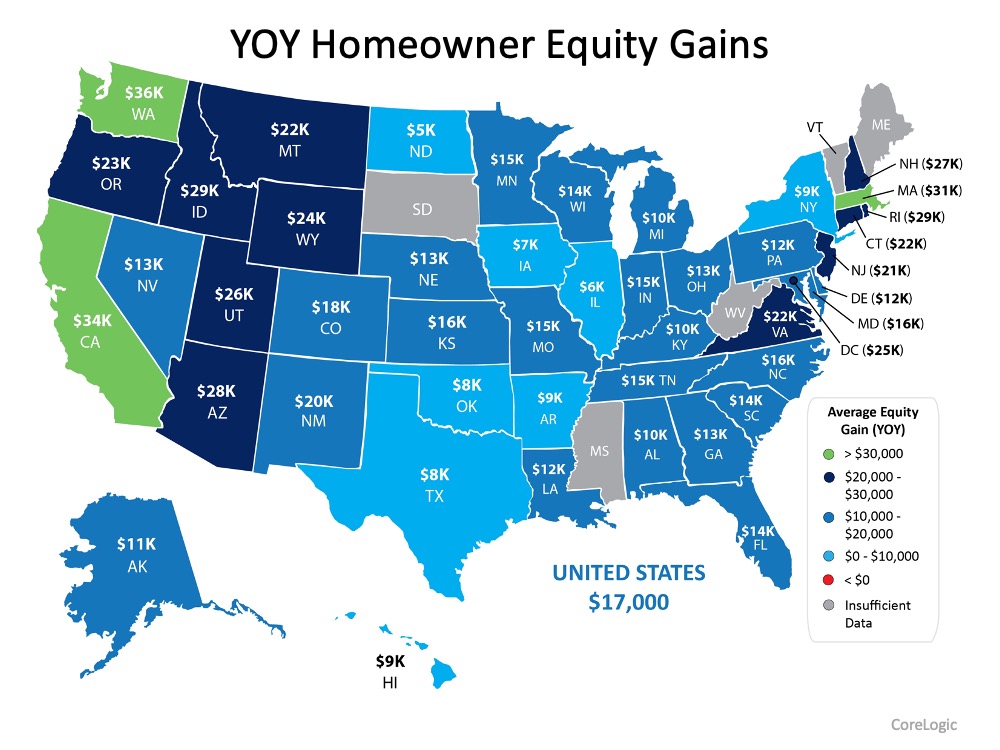 When can you cash in on your housing wealth?
Your home equity is part of your total wealth as a homeowner. The two most common ways homeowners can leverage their wealth are:
Selling: When you decide to sell your home, the equity you've built over time will come back to you in the sale. For example, if you paid off your $200,000 mortgage and sold your home for $350,000, you would receive $150,000 after closing.
Refinancing: You can refinance your current mortgage and take out some of the equity you have accumulated. With today's historically low mortgage rates, you may be able to take out substantial cash and keep your monthly payment the same. Thankfully, homeowners today are doing this responsibly and not repeating the same mistakes made in 2006-2008 when some cashed out their entire equity to purchase luxury items like new cars, lavish vacations, etc.
How can these options help homeowners?
During these difficult times, many households are struggling with their housing expenses. Homeowners, because of their equity, have better alternatives. Odeta Kushi, Deputy Chief Economist at First American, recently explained that homeowners financially impacted by the pandemic will not necessarily be faced with foreclosure:
"The foreclosure process is based on two steps. First, the homeowner suffers an adverse economic shock…leading to the homeowner becoming delinquent on their mortgage. However, delinquency by itself is not enough to send a mortgage into foreclosure. With enough equity, a homeowner has the option of selling their home, or tapping into their equity through a refinance, to help weather the economic shock."
What might the future bring?
Most experts are calling for home prices to continue appreciating going forward. The Home Price Expectation Survey, a survey of a national panel of over one hundred economists, real estate experts, and investment & market strategists, indicates appreciation will continue for at least the next five years. Using their annual projections, the graph below shows the equity build-up a purchaser would potentially earn by buying a $300,000 home this January:
Bottom Line
Home equity, for most Americans, is the quickest way to build household wealth. That wealth gives homeowners more options during good times and in difficult situations.