Joseph D. Federico's Blog
Don't Let Buyer Competition Keep You from Purchasing a Home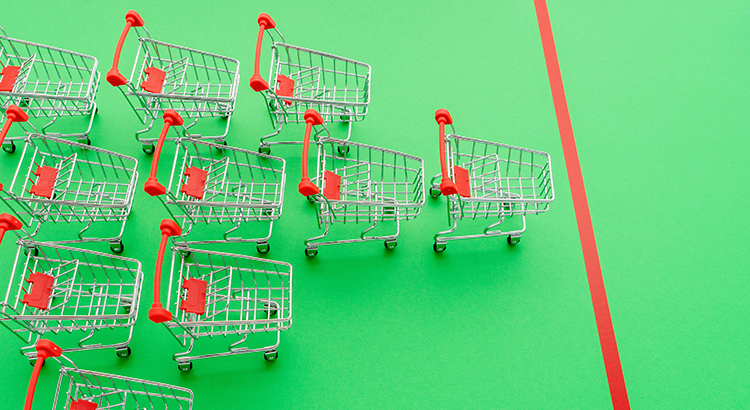 This year's record-low mortgage rates sparked high demand among homebuyers. Current homeowners, however, haven't put their houses on the market so quickly. This makes finding a home to buy today challenging for many potential buyers. With an obstacle like this, those searching for their dream homes may be pressing pause on their searches as we approach the end of the year, but that could be a big mistake for many hopeful house hunters. Here's why. 
According to the most recent Housing Trends Report from the National Association of Home Builders (NAHB):
"The length of time spent searching for a home continues to grow."
The report indicates that 62% of buyers now spend 3 months or more looking for a home, an increase from 58% one year ago. A primary cause for the delay is the heavy competition today's buyers face when making an offer on a home. Based on recent data from the National Association of Realtors (NAR), the average house in today's market receives 3.4 offers before it's sold. This means for every buyer who purchases a home, there are on average two or three buyers who have to begin their search all over again.
Compared to this time last year, the NAHB report shows that buyers are having more success finding homes in their price range. However, it also notes the percentage of buyers saying they're getting outbid when they make an offer has jumped from 15% to 27%. Buyers are indicating that bidding wars are a major obstacle to finding their dream home (See graph below):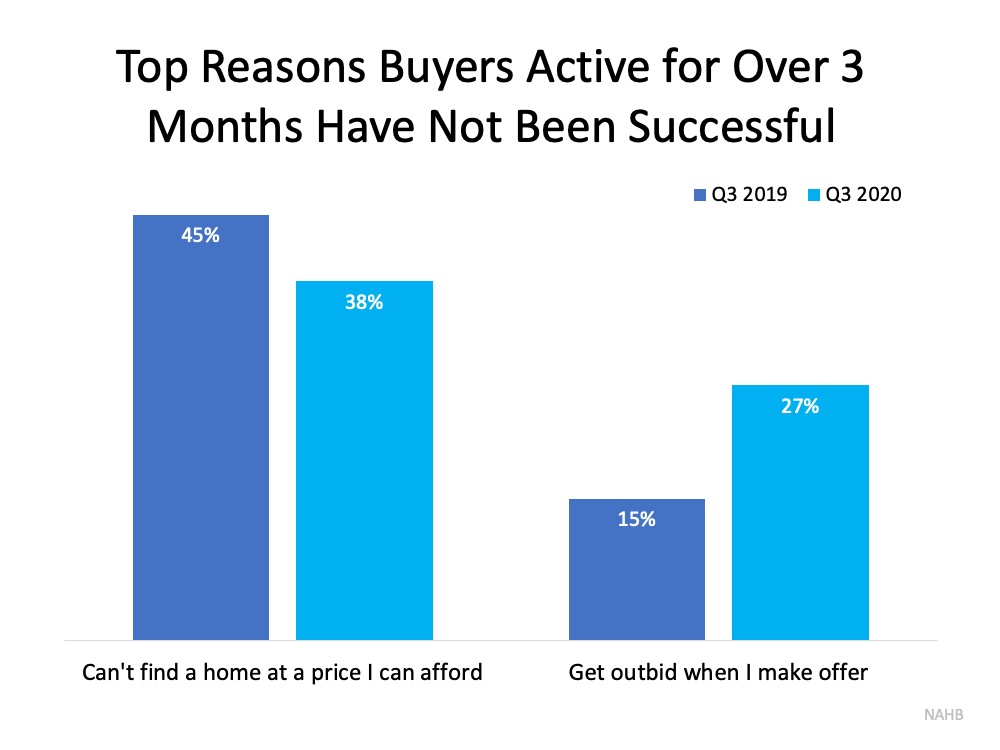 If this is a challenge you're up against in your home search, you're not alone. Feeling stuck in the process can be frustrating, but if there's ever been a year to power through, this is the one. NAHB noted:
"Difficulties finding a home to buy will likely lead 20% of active buyers to give up until next year or later. That share is up from 15% a year earlier."
Experts anticipate home prices will continue to rise into 2021, and the incredibly low interest rates we've seen this year are also forecasted to increase as the economy strengthens. Hopeful homebuyers who decide to hold off on their search until there's less competition run the risk of finding a more expensive housing market when they start looking again. If affordability is a key motivator behind your decision to buy a home, this winter is still the best time to make it happen.
Bottom Line
Bidding wars may be one of the greatest challenges buyers face in today's housing market, but they shouldn't be a deal-breaker. Having the right expert on your side throughout the buying process will give you the advantage you need when it comes to finding the right home and making a competitive offer. If you're ready to buy this winter, let's connect to discuss how to position yourself for success.
It Pays to Sell with a Real Estate Agent
Some Highlights
Today, it's more important than ever to have an expert you trust to guide you as you sell your house.
From your safety throughout the process to the complexity of negotiating the deal, you need a professional on your side.
Before you decide to take on the challenge of selling your house on your own, let's connect to discuss your options.
Will Mortgage Rates Remain Low Next Year?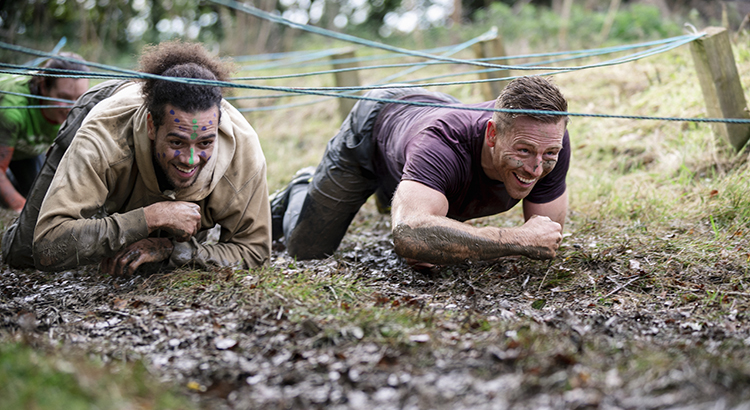 In 2020, buyers got a big boost in the housing market as mortgage rates dropped throughout the year. According to Freddie Mac, rates hit all-time lows 12 times this year, dipping below 3% for the first time ever while making buying a home more and more attractive as the year progressed (See graph below):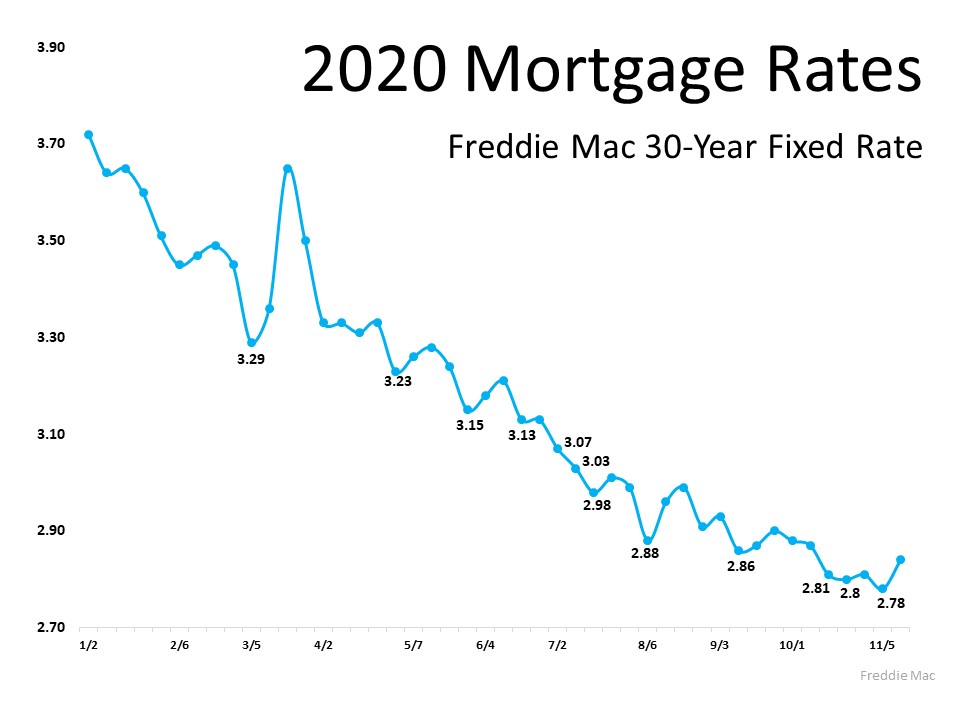 When you continually hear how rates are hitting record lows, you may be wondering: Are they going to keep falling? Should I wait until they get even lower?
The Challenge with Waiting
The challenge with waiting is that you can easily miss this optimal window of time and then end up paying more in the long run. Last week, mortgage rates ticked up slightly. Sam Khater, Chief Economist at Freddie Mac, explains:
"Mortgage rates jumped this week as a result of positive news about a COVID-19 vaccine. Despite this rise, mortgage rates remain about a percentage point below a year ago."
While rates are still lower today than they were one year ago, as the economy continues to get stronger and the pandemic is resolved, there's a very good chance interest rates will rise again. Several top institutions in the real estate industry are projecting an increase in mortgage rates over the next four quarters (See chart below):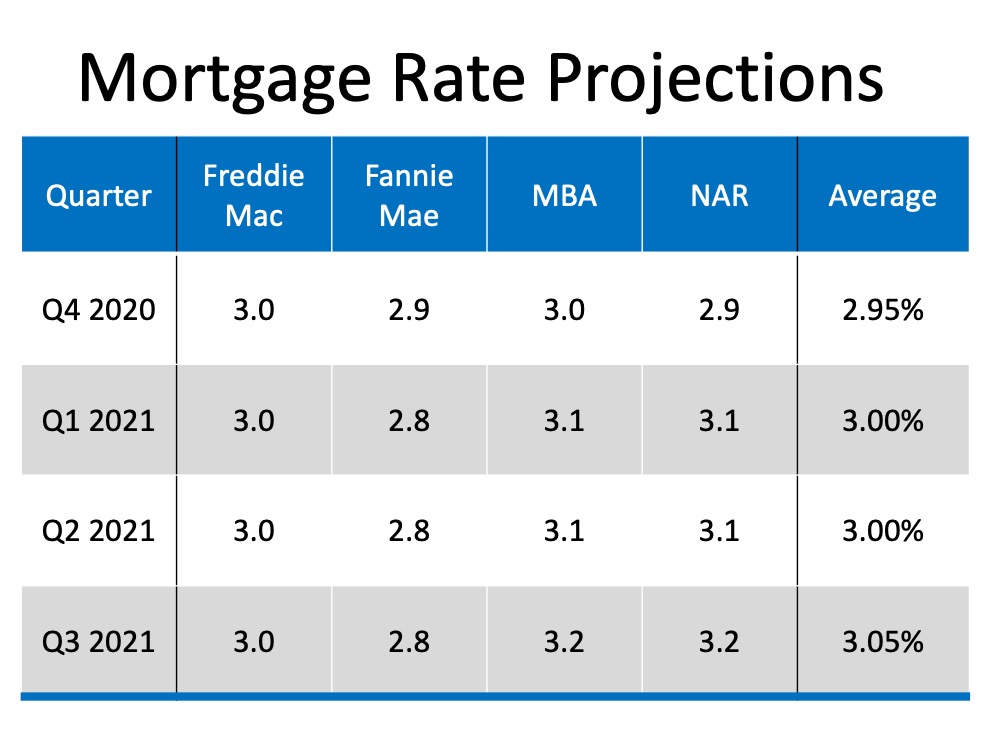 If you're planning to wait until next year or later, Mike Fratantoni, Chief Economist at the Mortgage Bankers Association (MBA), forecasts mortgage rates will begin to steadily rise: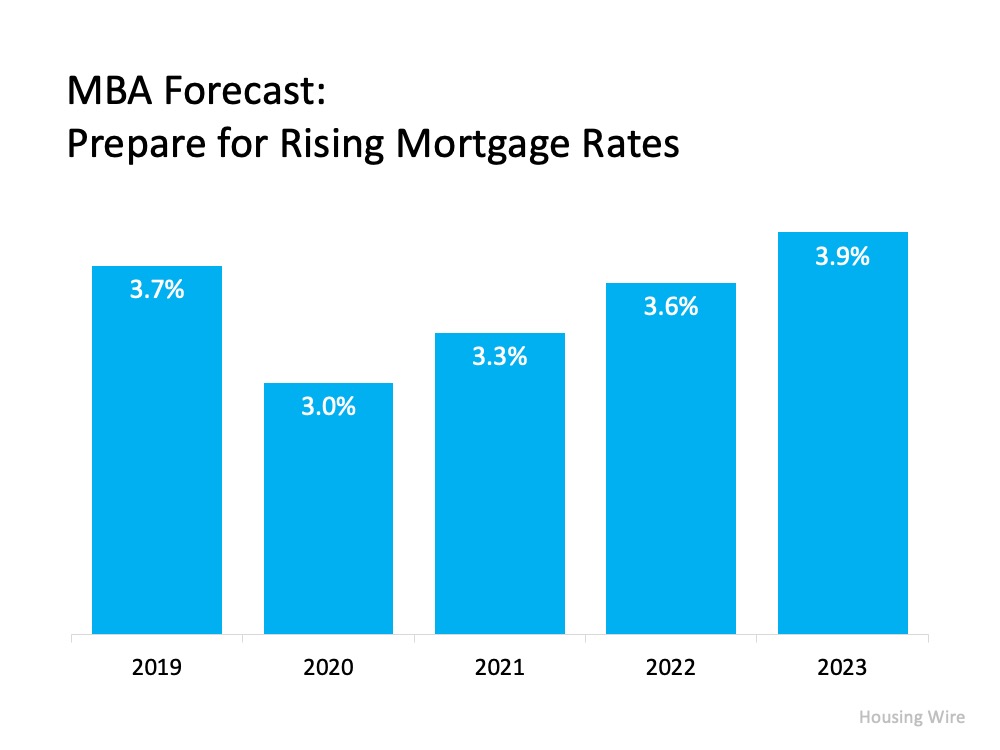 As a buyer, you need to decide if waiting makes financial sense for you.
Bottom Line
If you're planning to buy a home and want to take advantage of today's low rates, now is the time to do so. Don't assume they're going to stay this low forever.
Chances of Another Foreclosure Crisis? "About Zero Percent."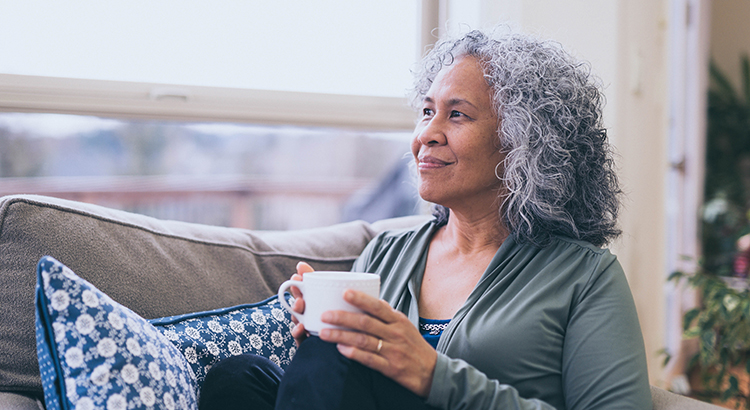 There seems to be some concern that the 2020 economic downturn will lead to another foreclosure crisis like the one we experienced after the housing crash a little over a decade ago. However, there's one major difference this time: a robust forbearance program.
During the housing crash of 2006-2008, many felt homeowners should be forced to pay their mortgages despite the economic hardships they were experiencing. There was no empathy for the challenges those households were facing. In a 2009 Wall Street Journal article titled Is Walking Away From Your Mortgage Immoral?, John Courson, Chief Executive of the Mortgage Bankers Association, was asked to comment on those not paying their mortgage. He famously said:
"What about the message they will send to their family and their kids?"
Courson suggested that people unable to pay their mortgage were bad parents.
What resulted from that lack of empathy? Foreclosures mounted.
This time is different. There was an immediate understanding that homeowners were faced with a challenge not of their own making. The government quickly jumped in with a mortgage forbearance program that relieved the financial burden placed on many households. The program allowed many borrowers to suspend their monthly mortgage payments until their economic condition improved. It was the right thing to do.
What happens when forbearance programs expire?

 
Some analysts are concerned many homeowners will not be able to make up the back payments once their forbearance plans expire. They're concerned the situation will lead to an onslaught of foreclosures.
The banks and the government learned from the challenges the country experienced during the housing crash. They don't want a surge of foreclosures again. For that reason, they've put in place alternative ways homeowners can pay back the money owed over an extended period of time.
Another major difference is that, unlike 2006-2008, today's homeowners are sitting on a record amount of equity. That equity will enable them to sell their houses and walk away with cash instead of going through foreclosure.
Bottom Line
The differences mentioned above will be the reason we'll avert a surge of foreclosures. As Ivy Zelman, a highly respected thought leader for housing and CEO of Zelman & Associates, said:
"The likelihood of us having a foreclosure crisis again is about zero percent."
Homes for Sale Are Rapidly Disappearing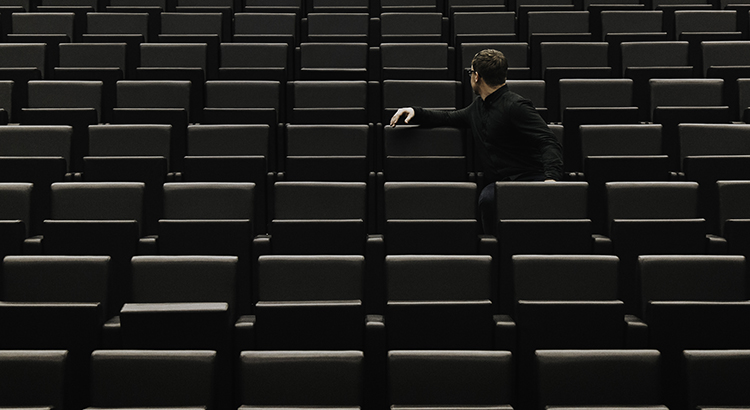 Through all the challenges of 2020, the real estate market has done very well, and purchasers are continuing to take advantage of historically low mortgage rates. Realtor Magazine just explained:
"While winter may be typically a slow season in real estate, economists predict it isn't likely to happen this year…Low inventories combined with high demand due to record-low mortgage rates is sending buyers to the market in a flurry."
However, one challenge for the housing industry heading into this winter is the dwindling number of homes available for sale. Lawrence Yun, Chief Economist for the National Association of Realtors (NAR), recently said:
"There is no shortage of hopeful, potential buyers, but inventory is historically low."
In addition, Danielle Hale, Chief Economist for realtor.com, notes:
"Fewer new sellers coming to market while a greater than usual number of buyers continue to search for a home causes inventory to continue to evaporate."
One major indicator the industry uses to measure housing supply is the months' supply of inventory. According to NAR:
"Months' supply refers to the number of months it would take for the current inventory of homes on the market to sell given the current sales pace." 
Historically, six months of supply is considered a normal real estate market. Going into the pandemic, inventory was already well below this mark. As the year progressed, the supply has was reduced even further. Here is a graph showing this measurement over the last year:
What does this mean if you're a buyer?
Be patient during your home search. It may take time to find a home you love. Once you do, be ready to move forward quickly. Get pre-approved for a mortgage, be prepared to make a competitive offer from the start, and understand how the shortage in inventory has led to more bidding wars. Calculate just how far you're willing to go to secure a home if you truly love it.
What does this mean if you're a seller?
Realize that, in some ways, you're in the driver's seat. When there's a shortage of an item at the same time there's a strong demand for it, the seller is in a good position to negotiate. Whether it's the price, moving date, possible repairs, or anything else, you'll be able to ask for more from a potential purchaser at a time like this – especially if you have multiple interested buyers. Do not be unreasonable, but understand you probably have the upper hand.
Bottom Line
The housing market will remain strong throughout the winter and heading into the spring. Know what that means for you, whether you're buying, selling, or doing both.