Joseph D. Federico's Blog
How Much Leverage Do Today's House Sellers Have?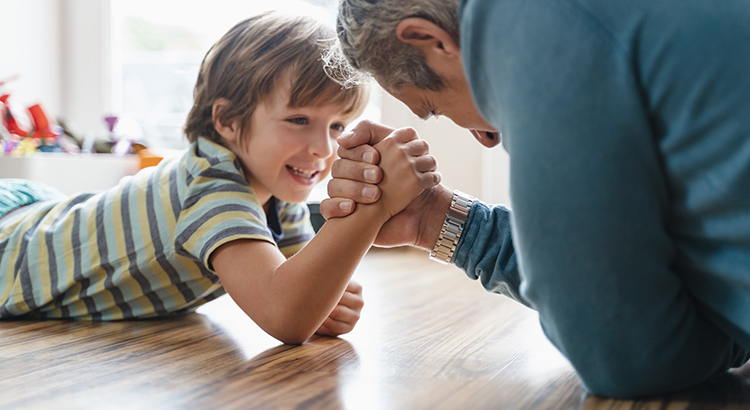 The housing market has been scorching hot over the last twelve months. Buyers and their high demand have far outnumbered sellers and a short supply of houses. According to the latest Existing Home Sales Report from the National Association of Realtors (NAR), sales are up 23.7% from the same time last year while the inventory of homes available for sale is down 25.7%. There are 360,000 fewer single-family homes for sale today than there were at this time last year. This increase in demand coupled with such limited supply is leading to more bidding wars throughout the country.
Rose Quint, Assistant Vice President for Survey Research with the National Association of Home Builders (NAHB), recently reported:
"The number one reason long-time searchers haven't made a home purchase is not because of their inability to find an affordably-priced home, but because they continue to get outbid by other offers." 
A survey in the NAHB report showed that 40% of buyers have been outbid for a home they wanted to purchase. This is more than twice the percentage in 2019, which was 19%.
What does this mean for sellers today?
It means sellers have tremendous leverage when negotiating with buyers.
In negotiations, leverage is the power that one side may have to influence the other side while moving closer to their negotiating position. A party's leverage is based on its ability to award benefits or eliminate costs on the other side.
In today's market, a buyer wants three things:
To buy a home
To buy now before prices continue to appreciate
To buy now and take advantage of historically low mortgage rates while they

 

last
These three buyer needs give the homeowner tremendous leverage when selling their house. Most realize this leverage enables the seller to sell at a good price. However, there may be another need the seller has that can be satisfied by using this leverage.
Here's an example:
Odeta Kushi, Deputy Chief Economist at First American, recently identified a situation in which many sellers are finding themselves today:
"As mortgage rates are expected to remain near 3%, millennials continue to form households and more existing homeowners tap their equity for the purchase of a better home…Many homeowners may want to upgrade, but do not for fear that they will be unable to find a home to buy."
She then offers a possible solution:

 
"While the fear of not being able to find something to buy will not disappear in a limited supply environment, new housing supply can incentivize existing homeowners to move."
There's no doubt many sellers would love to build a new home to perfectly fit their changing wants and needs. However, most builders require that they sell their house first. If the seller sells their home, where would they live while their new home is being constructed?
Going back to the concept of leverage:
As mentioned, buyers have compelling reasons to purchase a home now, and many homeowners have challenges to address if they want to sell. Perhaps they can make a deal to satisfy each party's needs. But how?
The seller may decide to sell their home to the buyer at today's price, which will enable the purchaser to take advantage of current mortgage rates. In return, the buyer might lease the house back to the seller for a pre-determined length of time while the seller's new home is being built. A true win-win negotiation.
Not every buyer will agree to such a deal – but you only need one.
That's just one example of how a seller might be able to overcome a challenge because of the leverage they have in today's market. Maybe you feel a need to make certain repairs before selling. Perhaps you need time to get permits or approvals for certain upgrades you made to the house. Whatever the challenge, you may be able to work it out.
Bottom Line
If you're considering selling your house now but worry a huge obstacle stands in your way, let's connect. Maybe with the leverage you currently have, you can negotiate a deal that will allow you to make the move of your dreams.
The Reason Mortgage Rates Are Projected to Increase and What It Means for You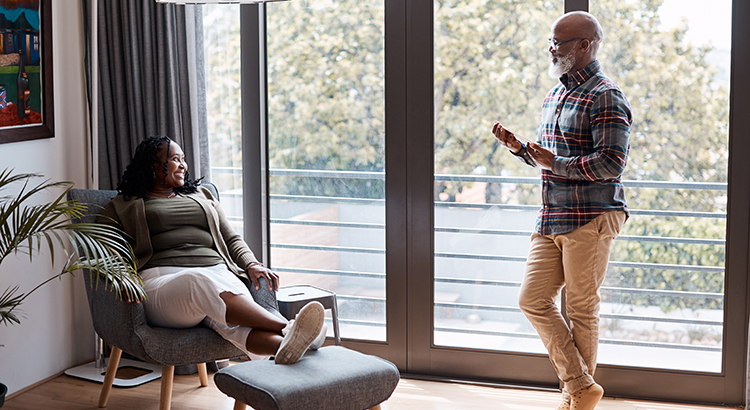 We're currently experiencing historically low mortgage rates. Over the last fifty years, the average on a Freddie Mac 30-year fixed-rate mortgage has been 7.76%. Today, that rate is 2.81%. Flocks of homebuyers have been taking advantage of these remarkably low rates over the last twelve months. However, there's no guarantee rates will remain this low much longer.
Whenever we try to forecast mortgage rates, we should consider the advice of Mark Fleming, Chief Economist at First American:
"You know, the fallacy of economic forecasting is don't ever try and forecast interest rates and/or, more specifically, if you're a real estate economist mortgage rates, because you will always invariably be wrong."
Many things impact mortgage rates. The economy, inflation, and Fed policy, just to name a few. That makes forecasting rates difficult. However, there's one metric that has held up over the last fifty years – the relationship between mortgage rates and the 10-year treasury rate. Here's a graph detailing this relationship since Freddie Mac started keeping mortgage rate records in 1972: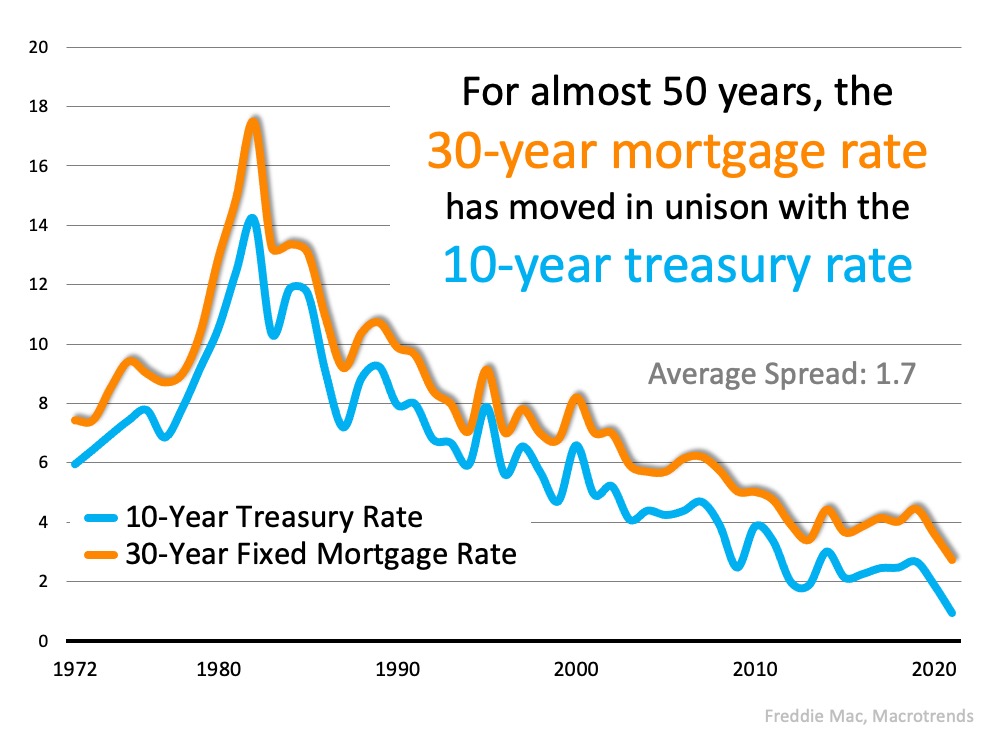 There's no denying the close relationship between the two. Over the last five decades, there's been an average 1.7-point spread between these two rates. It's this long-term relationship that has some forecasters projecting an increase in mortgage rates as we move throughout the year. This is based on the recent surge in the 10-year treasury rate shown here:
The spread between the two is now 1.53, indicating mortgage rates could rise. Actually, a bump-up in rate has already begun. As Joel Kan, Associate VP of Economic Forecasting for the Mortgage Bankers Association, reveals:
"Expectations of faster economic growth and inflation continue to push Treasury yields & mortgage rates higher. Since hitting a survey low in December, the 30-year fixed rate has slowly risen, & last week climbed to its highest level since Nov 2020."
How high might they go in 2021?
No one knows for sure. Sam Khater, Chief Economist for Freddie Mac, recently suggested:
"While there are multiple temporary factors driving up rates, the underlying economic fundamentals point to rates remaining in the low 3% range for the year."
What does this mean for you?
Whether you're a first-time buyer or you've purchased a home before, even an increase of half a point in mortgage rate (2.81 to 3.31%) makes a big difference. On a $300,000 mortgage, that difference (including principal and interest) is $82 a month, $984 a year, or a total of $29,520 over the life of the home loan.
Bottom Line
Based on the 50-year symbiotic relationship between treasury rates and mortgage rates, it appears mortgage rates could be headed up this year. It may make sense to buy now rather than wait.
Where Have All the Houses Gone?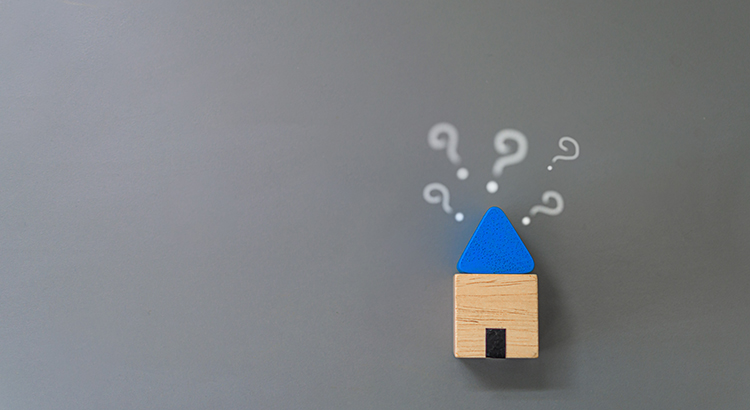 In today's housing market, it seems harder than ever to find a home to buy. Before the health crisis hit us a year ago, there was already a shortage of homes for sale. When many homeowners delayed their plans to sell at the same time that more buyers aimed to take advantage of record-low mortgage rates and purchase a home, housing inventory dropped even further. Experts consider this to be the biggest challenge facing an otherwise hot market while buyers continue to compete for homes. As Danielle Hale, Chief Economist at realtor.com, explains:
"With buyers active in the market and seller participation lagging, homes are selling quickly and the total number available for sale at any point in time continues to drop lower. In January as a whole, the number of for sale homes dropped below 600,000." 
Every month, realtor.com releases new data showing the year-over-year change in inventory of existing homes for sale. As you can see in the map below, nationwide, inventory is 42.6% lower than it was at this time last year: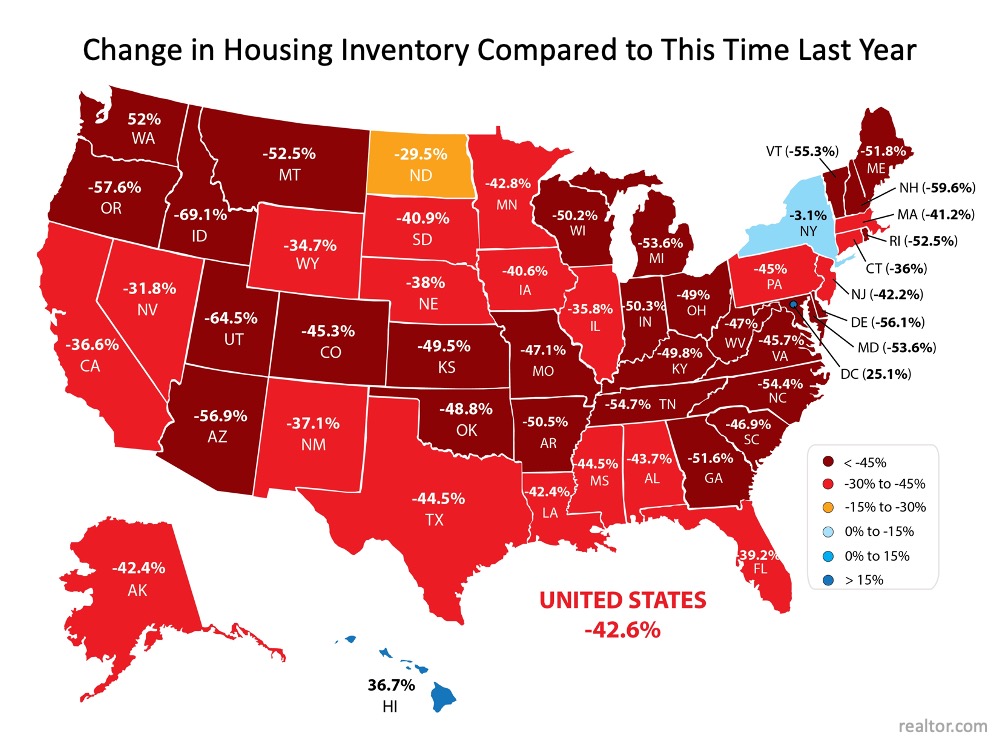 Does this mean houses aren't being put on the market for sale?
Not exactly. While there are fewer existing homes being listed right now, many homes are simply selling faster than they're being counted as current inventory. The market is that competitive! It's like when everyone was trying to find toilet paper to buy last spring and it was flying off the shelves faster than it could be stocked in the stores. That's what's happening in the housing market: homes are being listed for sale, but not at a rate that can keep up with heavy demand from competitive buyers.
In the same realtor.com report, Hale explains:
"Time on the market was 10 days faster than last year meaning that buyers still have to make decisions quickly in order to be successful. Today's buyers have many tools to help them do that, including the ability to be notified as soon as homes meeting their search criteria hit the market. By tailoring search and notifications to the homes that are a solid match, buyers can act quickly and compete successfully in this faster-paced housing market."
The Good News for Homeowners
The health crisis has been a major reason why potential sellers have held off this long, but as vaccines become more widely available, homeowners will start making their moves. Ali Wolf, Chief Economist at Zonda, confirms:
"Some people will feel comfortable listing their home during the first half of 2021. Others will want to wait until the vaccines are widely distributed."
With more homeowners getting ready to sell later this year, putting your house on the market sooner rather than later is the best way to make sure your listing shines brighter than the rest.
When you're ready to sell your house, you'll likely want it to sell as quickly as possible, for the best price, and with little to no hassle. If you're looking for these selling conditions, you'll find them in today's market. When demand is high and inventory is low, sellers have the ability to create optimal terms and timelines for the sale, making now an exceptional time to move.
Bottom Line
Today's housing market is a big win for sellers, but these conditions won't last forever. If you're in a position to sell your house now, you may not want to wait for your neighbors to do the same. Let's connect to discuss how to sell your house safely so you're able to benefit from today's high demand and low inventory.
Home Mortgage Rates by Decade [INFOGRAPHIC]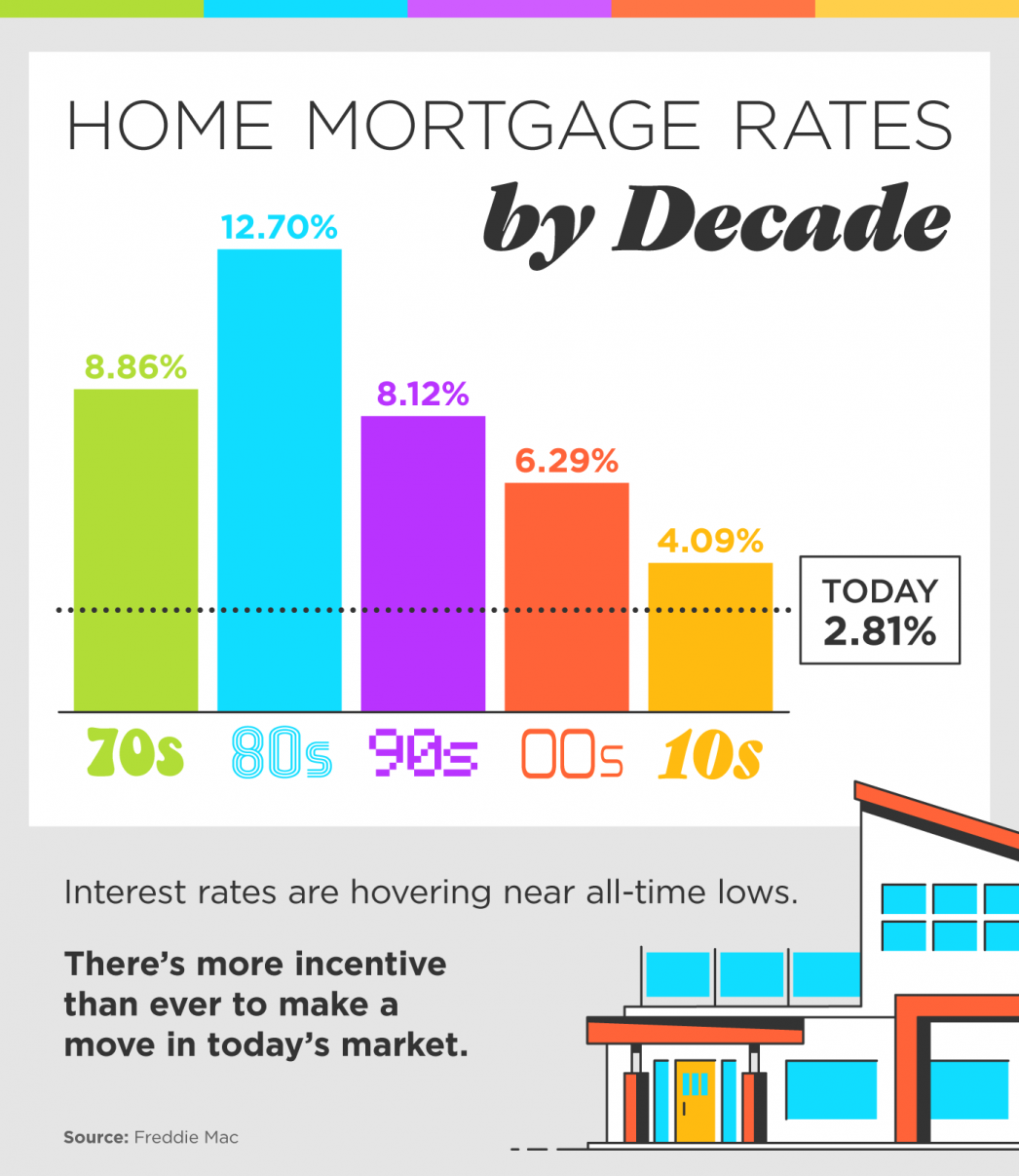 Some Highlights
Mortgage interest rates have dropped considerably over the past year, and compared to what we've seen in recent decades, it's a great time to buy a home.
Locking in a low rate today could save you thousands of dollars over the lifetime of your home loan, but these low rates may not last

 

forever.
If you're in a position to buy a home, let's connect to determine your best move in today's housing market while interest rates are still in your favor.
Will Low Mortgage Rates Continue through 2021?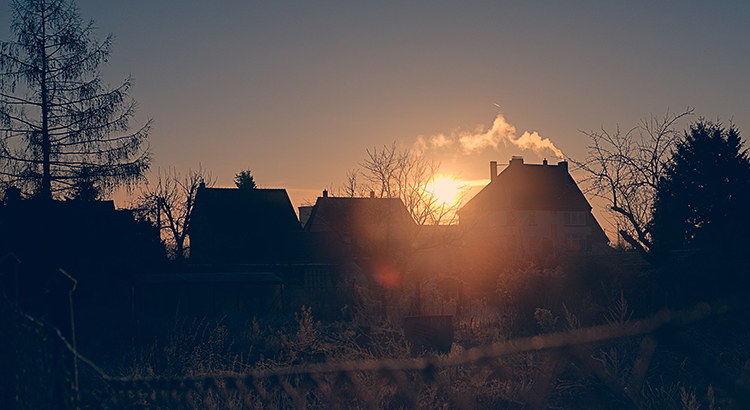 With mortgage interest rates hitting record lows so many times recently, some are wondering if we'll see low rates continue throughout 2021, or if they'll start to rise. Recently, Freddie Mac released their quarterly forecast, noting:
"The average 30-year fixed-rate mortgage hit a record low over a dozen times in 2020 and the low interest rate environment is projected to continue through this year. We expect interest rates to average below 3% through the end of 2021. While this is a modest rise from 2020 averages, the recent vote by the Federal Reserve to keep interest rates anchored near zero should keep rates low."
As shown in the graph below, Freddie Mac is projecting low rates going forward with a modest rise that's expected to continue through 2022.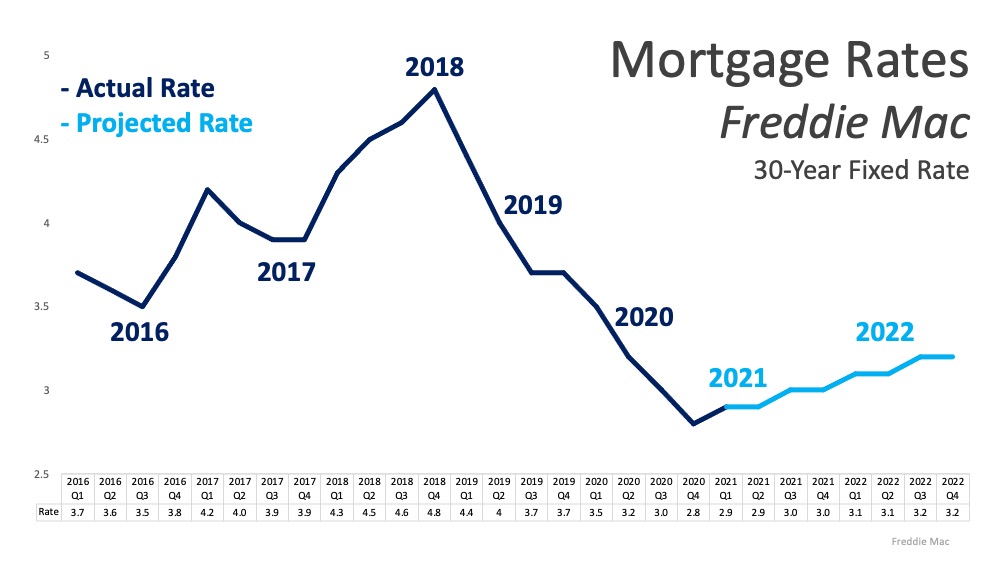 Freddie Mac isn't the only authority forecasting low rates with a slight rise. Fannie Mae, The Mortgage Bankers Association (MBA), and the National Association of Realtors (NAR) also anticipate low rates with a small increase as 2021 continues on. Here's the quarterly breakdown of their projections and how they're expected to play out over the next year: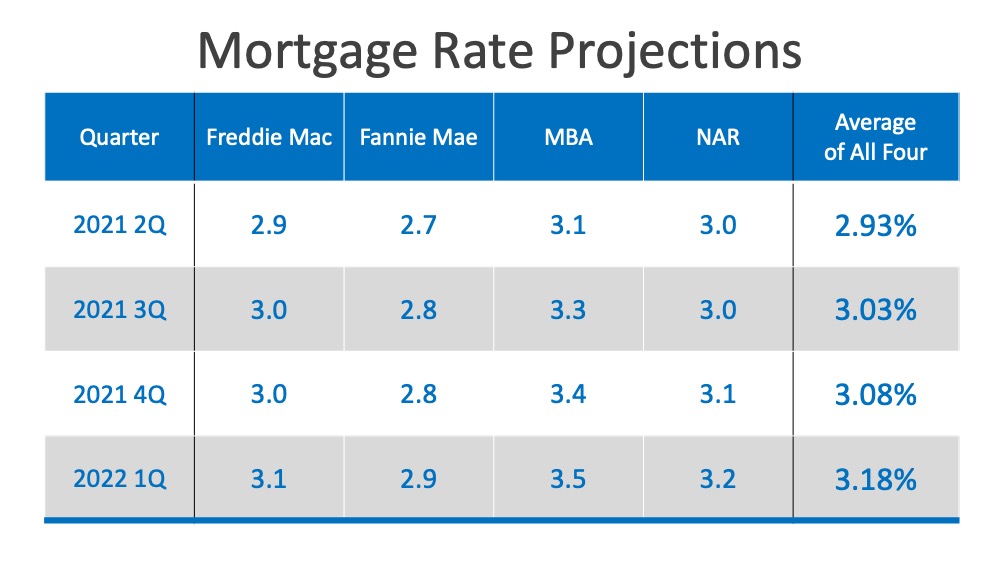 It's important to note that, while a small change in interest rates can have a substantial impact on monthly mortgage payments, these rates are still incredibly low compared to where they were just a couple of years ago.
What does this mean for buyers?
Low mortgage rates are creating an outstanding opportunity for current homebuyers to get more for their money while staying within their budget. As the economy gets stronger and we recover from the challenges of 2020, it's natural for rates to potentially rise in response to a healthier economy. Mark Fleming, Chief Economist at First American, reminds us:
"Rising interest rates reduce house-buying power and affordability, but are often a sign of a strong economy, which increases home buyer demand. By any historic standard, today's mortgage rates remain historically low and will continue to boost house-buying power and keep purchase demand robust."
With low rates fueling activity among hopeful buyers, there are a lot of people who are highly motivated and looking for homes to purchase right now. In this environment, it can be challenging to find a home to buy, so a local real estate agent will be key to your success if you're thinking of buying too. Working with a trusted real estate professional to navigate the process while rates are in your favor might be the best move you can make.
Bottom Line
If you're ready to buy a home, it may be wise to make your move before mortgage rates begin to rise. Let's connect to discuss how today's low rates can create more opportunities for you this year.